Dolce Vita-lity retreat in Umbria Italy with Margherita Dal Pra - 18-25 July 2020
Bliss out this summer with a special yoga retreat at the beautiful In Sabina estate in Umbria, Italy. Relax and recharge with expertly guided yoga and meditation classes, incredibly delicious organic food and enough free time to truly let yourself go.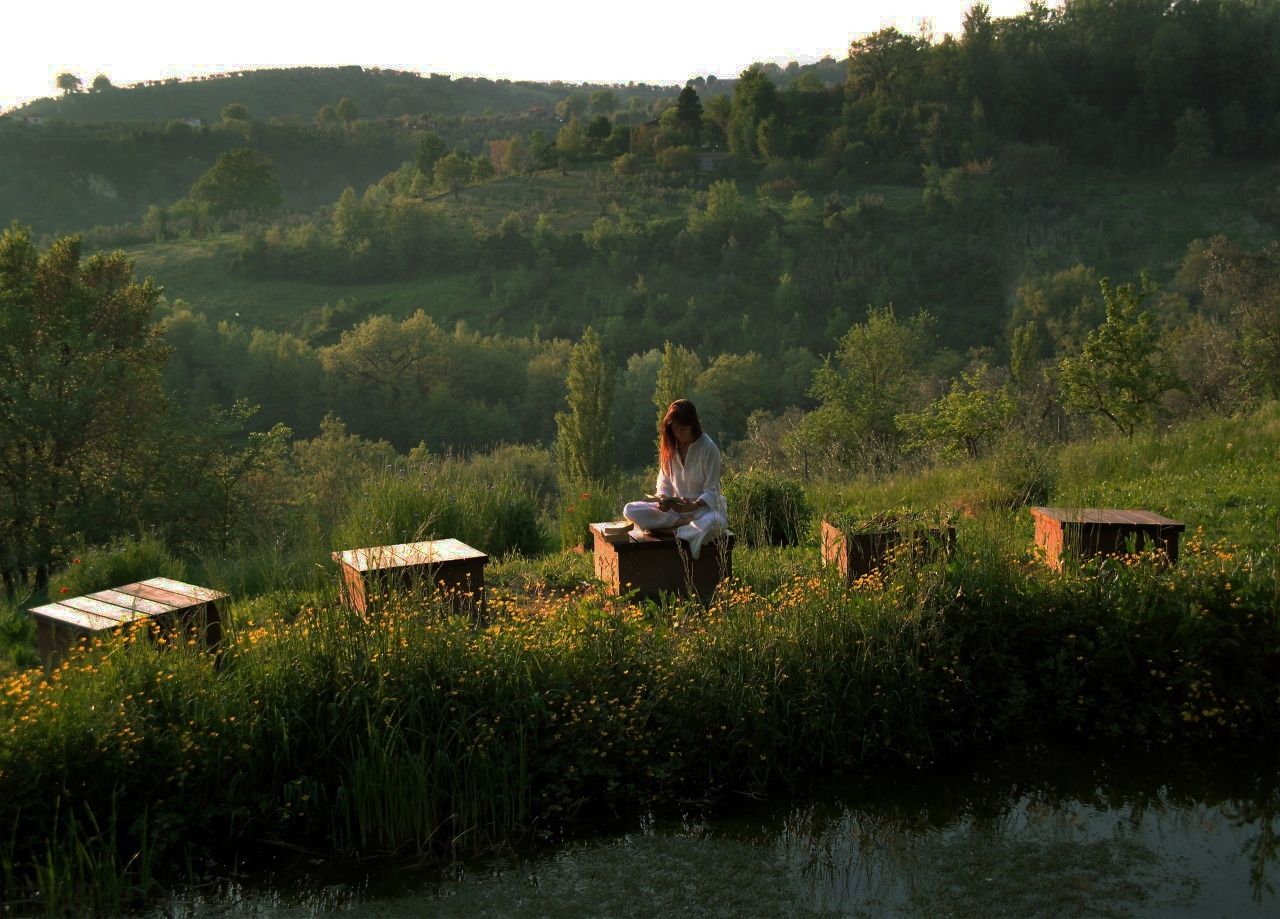 In Sabina has a welcoming and magical environment that is the perfect place to blend good health with good living.
In Sabina Retreat Centre

Prepare to be completely enchanted every day by the gorgeous rolling hills of the Umbrian countryside during your summer yoga retreat in Italy.
The In Sabina estate is located in the heart of the Sabine hills, only an hour from Rome – but a world away from the hustle of the city. Two beautifully restored 17th century stone buildings overlook an incredible panorama of olive groves and fruit trees, as well as lush gardens, a pond and swimming pool. There are three terraces with stunning views for relaxing and watching the amazing sunsets every night.

Within the grounds next to the olive groves there is a gorgeous and spacious open-air yoga platform designed by the architect Marco Antonini, with stunning & panoramic views of the rolling Italian landscape. There is also a second indoor converted yoga room, with large windows over looking the hills & trees.

The surrounding area is rich in medieval Italian history as well as natural beauty. Guests can enjoy visits to Torri, an ancient village with barely 1000 residents only 3km away, and the charming hilltop town of Casperia, only 10 minutes drive from the yoga retreat centre, and where you can stay before or after the retreat at the charming La Torretta Bed and Breakfast.

The setting is rustic and magical, peaceful and quiet. An ideal place for spiritual practice.

WHAT TO EXPECT
Margherita will lead you through every step of this retreat with her unique combination of experience and care. All sessions will be adapted to the group and modifications of the poses will be offered to cater for all participants and to ensure that everyone is receiving the benefits of the practice and individual attention.
There will be a morning and an evening practice each day. The morning sessions are invigorating and cleansing for the mind and body, and the evening practise incorporates meditation, yoga nidra and relaxation. Two half days or one full day off mid week to explore the beautiful Sabine hills and sightseeing the historic Italian hilltowns nearby.

Depending on the energetics of the class some mornings we will have a light fruit snack before yoga and brunch after practice. Similarly on the excursion days we will change meal schedules to enable free time.

Come a day early early or leave late to spend an extra day exploring Rome, Spoleto, Orvieto, Siena and Assisi (only 45 minutes to 2 hours away)

SUMPTUOUS FOOD
Margherita firmly believes that your yoga practice should be supported by delicious and wholesome food. The mouth watering vegetarian meals cooked by our private chef, are cooked using local produce. You will sample some of the traditional recipes of Italy as well as raw and alkalising meals and some comfort food too. You will be served fresh, healthy, incredibly delicious organic vegetarian food. Schedule may vary slightly but usually there will be a substantial brunch and dinner every day, apart from Friday when the group will enjoy an evening out to a local restaurant. Fruit will be available before morning yoga for those who need a little something and a snack mid afternoon. They can cater for gluten free, dairy free and vegan but not for dislikes and not necessarily for more unusual dietary restrictions so do enquire before booking if this relates to you. You will be surprised on how strong and healthy you will feel by the end of the week. For the same reason the retreat is strictly alcohol free and we strongly ask you to respect that by not bringing any wine or spirit at the venue nor in your bedroom and to not encourage others, and keeping a neutral space.

""This was such an amazing week. The yoga was incredible and in such a beautiful setting. The practise was at the perfect speed and really appreciated the adaption to the energy of the class. I enjoyed the free flowing aspects and it was exhilarating being about to dance and play around with movements. The setting and food was incredible, really something magical and special. I really learnt a lot over this week and I can't wait to do it again. Thank you. " -- Juliette

For more details and booking visit:

https://www.yogam.co.uk/retreats/italy-yoga-retreat/