Jivamukti Yoga with Luis Valentine
"It's the passion I see in my own teachers which makes their teaching so special and what drives me to teach." In this week's feature we hear from Jivamukti teacher Luis Valentine about his yoga journey and how he is inspired by the strong lineage of the Jivamukti practice.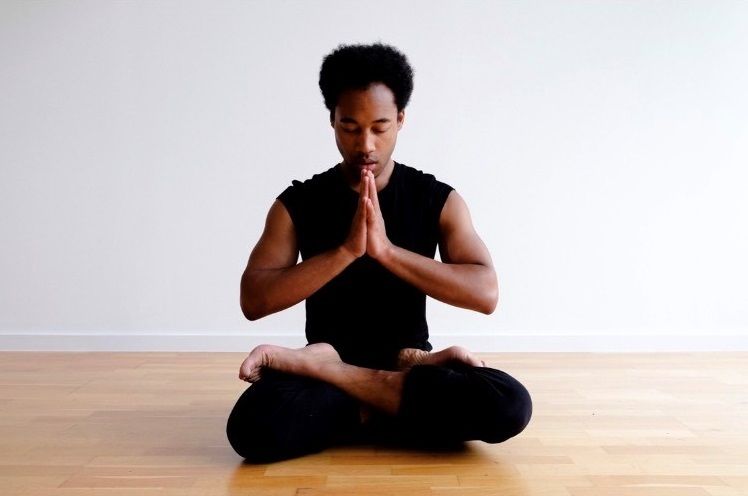 When did you first realise you wanted to teach?
After practising for some time, it was at the back of my mind but it was only after properly meeting Emma Henry on a life-changing yoga retreat. Emma simply told me that I should be teaching Jivamukti Yoga and then I started to seriously consider the possibility.
Who or what has been your biggest inspiration on your yoga journey so far?
My teachers and founders of Jivamukti Yoga, Sharon Gannon and David Life. Not only are they amazing teachers they are also visionaries and ahead of their time. They were doing this stuff before it was cool in the West and before people were so open. Their work for animal rights, promotion of ethical veganism and the books they have published inspire me on a daily basis. I try to spend time in their presence as much as I can and I was lucky enough to have spent the first part of the year practising with them in New York.
Also my teacher and dear friend Emma Henry is a constant source of support and inspiration through her superb teaching and true passion for the yoga practices.
What do you think makes a good teacher?
A regular and consistent practice. A genuine liking of people. Passion for the yoga practices. Connection to strong yoga lineage.
For me, teaching is sharing my own experiences of the practice which is impossible if I didn't have that experience. This is particularly helpful when I am teaching beginners or those newer to the practice as I can empathise more as I have been there.
Teaching yoga can be very social and you spend lots of time with people, giving to, or serving them. To enjoy being around others really helps.
It's the passion I see in my own teachers which makes their teaching so special and what drives me to teach.
It sounds old school, but being connected to a strong yoga lineage and having the blessing of your teachers to teach brings a humility, sincerity and quality to the teaching. With so many teacher training courses these days I think this is important.
What drew you to Jivamukti in particular?
I was training as actor when I first started practising yoga and I was exploring many different types of movement and dance so asana felt natural. When I discovered Jivamukti, I had this amazing sense of connection which is difficult to describe. The chanting and philosophy made the practice integrated and complete. The sequences felt like a sacred dance. There was a real intention and reason for the practice and it all felt familiar. As a singer I was particularly taken with the chanting aspect but wasn't sure why. I think I went to class everyday for a month and was hooked.
What tips would you give to a beginner of yoga?
I always recommend beginners take a beginners course or do some work with a teacher 1-2-1 as an introduction. It's incredibly helpful to learn the classical poses before jumping into an open class. Helpful though not essential and I've seen some students with a sense of adventure successfully jump in at the deep end. The great thing about the Jivamukti open class is that it is inclusive and people can take it their own pace. We try to cater for a range of levels and I always teach everyone as an individual anyhow.
What is your favourite asana?
This changes but at the moment either Adho Mukha Svanasana or Pincha Mayurasana.
Adho Mukha Svanasana offers so much when done correctly and Pincha Mayurasana is a great way to shift perception and watch the mind and breath.
Where might we find you on your days off?
At a yoga studio practising followed by a vegan dinner out with friends. My idea of a perfect day!
What is your favourite post-practice meal or snack?
After practice I'm more interested in a full vegan meal rather than a snack. I love to eat out and like a wide range of things. Indian, Thai, Vietnamese or vegan pizza!