Kindness, Enquiry and Practice with Eunice Laurel
We catch up with Eunice, yoga teacher and therapist dedicated to the study, practice and sharing of yoga. She has been studying various forms of asana for over a decade, from Astanga Vinyasa to more restorative styles, and is an avid student of various forms and traditions of yoga and philosophy.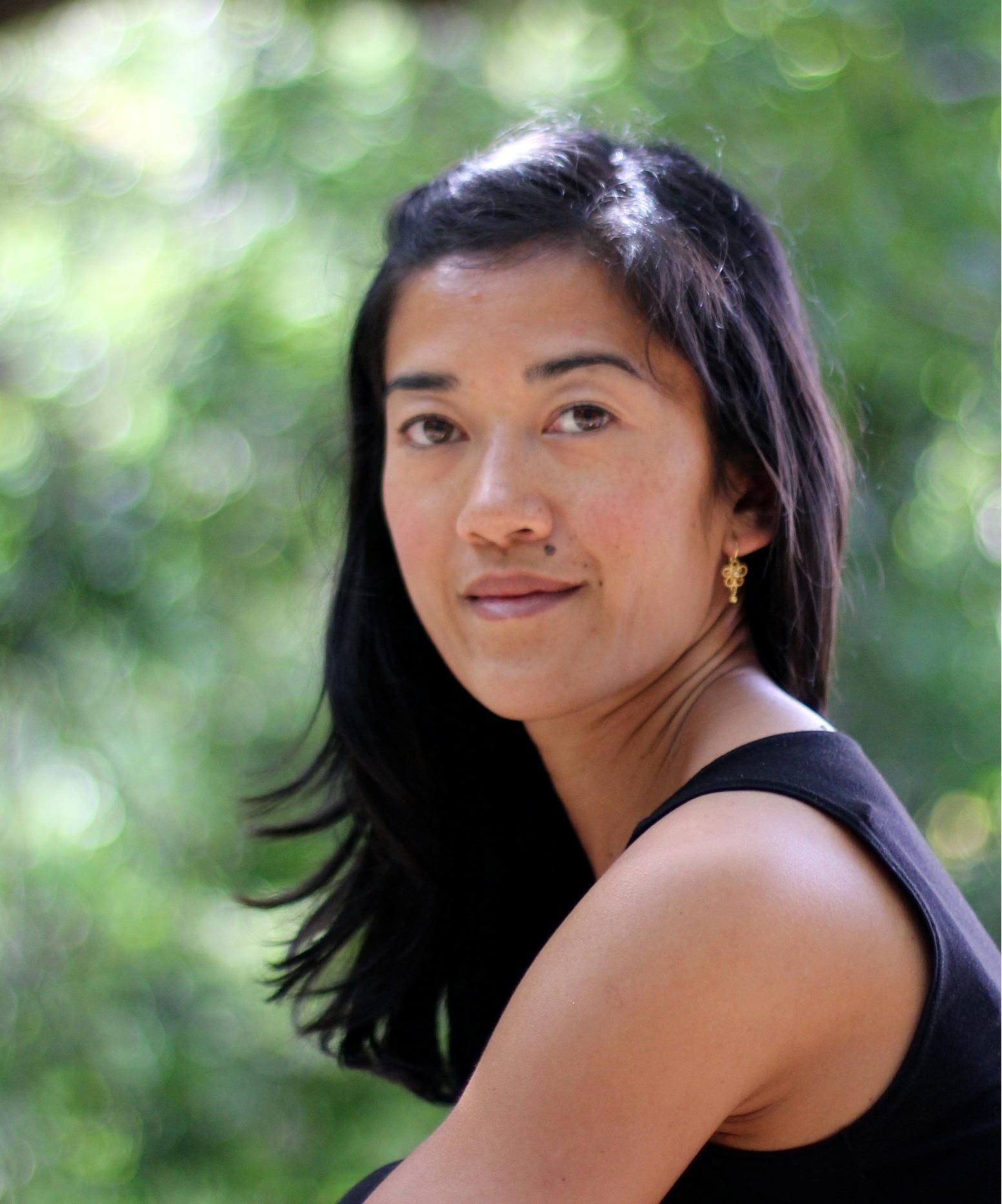 When did you start thinking about teaching yoga?
I started practising Astanga in 2000, when I was 24 years old. In the years that followed, the thought of teaching had never, ever crossed my mind. An ex-boyfriend actually planted the seed about four years later, and even then when he'd suggested I consider it, I had scoffed. I thought, 'there was no way that I could ever teach, I didn't have the skills, I didn't know enough, I was just a little fish'. Later that same year, I travelled to Nepal and India. I spent a month living at Kopan Monastery studying Lama Tsong Khapa's Lam Rim. It was a pretty intense time for me, but I had my Astanga practice to keep me anchored in a lot of the confusions and past experiences that I was working out within myself. During that time, people would come to me and ask me to teach them yoga. It was strange for me. I said, 'no, I wasn't a teacher'. But those people,unbeknownst to them, kept tilling the soil and helped to sow that seed.I'm grateful for that. A small light was lit, and it was the first time I invited that possibility in. I went to Mysore after that and when I came back to England I began to look into courses. I did intensive teaching workshops here and there but it wasn't until 2006 that I booked to study with The Life Centre's Teacher Training Course. The rest is history…
How has your relationship to Astanga changed over the years?
It's cliched, but when I found yoga, I felt I had come back to somewhere I knew and loved, but had forgotten about. But like any relationship, it's had it's ups and downs, like any relationship. There was the honeymoon period where I fell deeply in love, and a little unsure where it was going to go. But I went slowly, and kept at it. Then I got into a groove after I had come back from Mysore in 2004 and there was so much fire. It's all I wanted to do, I was deeply attached and was very entrenched in my practice. Sometimes at the cost of other things. In 2008, I worked for an NGO and went to Rwanda for 5 months, to teach Astanga to the survivors of the genocide in '94 as an adjunctive to their clinical therapy. Being there planted a curiosity in me about the practice and it's role in healing, and I came back to London intent on finding out more about the therapeutic application of yoga in both an Astanga and non-Astanga context. Those years forced me to re-evaluate my Astanga practice deeply, and I had a sort of love-hate relationship then. There were lots of questions that I felt couldn't be answered in an Astanga context at the time, and although I had a consistent practice, the intensity and attachment to getting more series died off. Since that time, I became a Mother, and my relationship to Astanga has stepped into a new chapter. It's softer but more grounded, more humble. I'm grateful to be able to have the time now to get back into a shala, on my mat and in the presence and guidance of a teacher. Despite our relationship, Astanga has always been in my life, and now, I feel like I've come home again.
Tell us about iRest
The term iRest is short for Integrative Restoration, 'i' representing the little i of our ego! It's a meditation technique that invites deep relaxation and an opportunity for profound internal enquiry. It's a modern adaptation of Yoga Nidra, which is a type of yogic meditation. It's really a practice that keeps helping us to come home to our bodies, to feel into everything that's present in ourselves. I was introduced to iRest in 2009 or 2010 after a suggestion by one of my teachers who had studied with the founder of iRest, Richard Miller, when he came to London. Unfortunately, I had missed out on his visit here, so I went straight to the U.S. to learn directly from him. Richard's application of yoga nidra was developed from his experience as a clinical psychologist, and a long time yogic scholar. That was very interesting to me: What approach does a clinician, and a long-time practising yogi, have to asking those very deep questions … Who am I? For me, this approach was really profound. It made a lot of sense to me. I haven't looked back, and it forms part of my daily pratice. I really think that yoga nidra can help contribute to make our community more engaged.
What do you think makes a good teacher?
I can only speak from the experience that I have of the teachers I greatly love and admire, and hold dear to me. I think what makes them good teachers is their kindness, and their compassion, firstly. I have always felt deeply safe with them; physically, emotionally and psychologically. They've held space for my vulnerabilities without me having to explain. They are very humble, willing to ask questions of their students, they don't hold themselves higher. They have a genuine wonder and curiosity of the world. They are devoted in service to helping their students. They have a wicked sense of humour; able to laugh easily, especially at themselves! A lightness of Being. I feel all these qualities are then held by authenticity. This has been my privileged experience of a skillful teacher.
What advice would you give to beginners?
Looking back on my own journey of yoga, the experience and guidance that was useful for me was finding a good beginners course so I could learn the fundamentals of all aspects of yoga, not just asana. Then explore different classes and teachers, if you're unsure what kind of yoga you might enjoy. Ask questions of teachers of their styles. Ask other practitioners what they've enjoyed. And then just keep practicing, and keep enquiring. Go slowly, take time to drink it in, to see the landscape. I think it really just takes time to find depth in yoga. My relationship with my practice has changed so much over the years. I look back to when I first started and marvel at how little I knew. I know I'll look back in 20 years time (at me today) and think, "sheeesh, you knew nothing…" I think for each of us, our relationship to yoga unfolds organically and uniquely. And in the end, we're all beginners.
What do you think about yogalebrities? And what is happening to yoga?
"Yogalebrities", I like that term. I feel like yoga in the West, in the time I've been practicing, which isn't so long in the scheme of it, has changed with the evolution of technology. Social media can be so useful, it keeps us informed, helps us to share more easily, more readily. This can be really positive for the sharing of yoga and it's teachings. It can sow the seed of curiosity in people, and give people access to yoga who may not be able to physically get to classes. Humans are also very visual, so there is something compelling about seeing a quick snap-shot of a person in a crazy pretzel pose. I think this is mostly when "Yogalebrities" are born. Sometimes it can feel too much about the asana, the shape, and so it can leave a landscape of misunderstanding. Social media plays to our hunger for immediate stimulaiton and a sound bite, or a visual of a shape, isn't enough to comprehend the depth of yoga or the depth of that practitioner or teacher.
But there is a duality to everything. I think it's important to just keep practicing, take what's important, use our skills as practitioners to discern the aspects of 'Yogalebrity' and social media that are useful, and acknowledge, and then disregard anything that's not.
The teachers that I value in my life are the ones rich in experience, kindness, and compassion, and poor in social media skills! They don't have Instagram or Facebook accounts, and don't travel extensively. They've stayed put in their locations for years and years. To me, these are the real 'Yogalebrities'!
What/who inspires your practice these days?
In the old days, it was the Yogalebrities! Ha ha. These days, things are more subtle. I have a deeper appreciation of my teachers as I've gotten to know them over the years, in their lives away from the sphere of yoga. I'm inspired by individuals: the disabled woman I saw leaving her house in a wheelchair and getting into her car to drive; or the student at 4:30am this morning who went out in her pyjamas to pick up an injured squirrel on the road. Those little things inspire and teach me. I'm deeply inspired by my husband who values authenticity in his relationships with everyone, he looks people in the eye when he speaks to them, and really takes time to listen. This is a valuable practice that I think many people haven't learnt to master; looking someone in the eye when we speak to them. My biggest inspiration to my practice is my daughter, I get up to practice so I can be a better, more grounded Mother, and as a result, a more engaged human Being. I'm still practicing!
Eunice teaches Restorative Yoga & Yoga Nidra on Tuesdays at 4.30-5.45pm and Ashtanga Yoga on Tuesdays at 6pm at Islington.
Meet Eunice on the Mat
Join Eunice at Islington on Tuesdays for Restorative Yoga & Yoga Nidra followed by Ashtanga Yoga.
book a class
---