Nurture + Evolve Retreat in Norfolk with Margherita Dal Pra - 29 - 31 May 2020
This late spring, join Margherita on a yoga weekend in beautiful Norfolk – only two hours from London. This perfect weekend yoga retreat will be held at West Lexham, a luxury eco-friendly country manor estate located not far from the famous North Norfolk coast. If you are looking to get away from London for a weekend yoga retreat, this stunning location will lift your spirits and inspire you to unfurl to your full potential. Your experienced yoga guide, Margherita dal Pra, will lead you through an immersive experience, where you can leave the world behind and walk the talk of how life can be.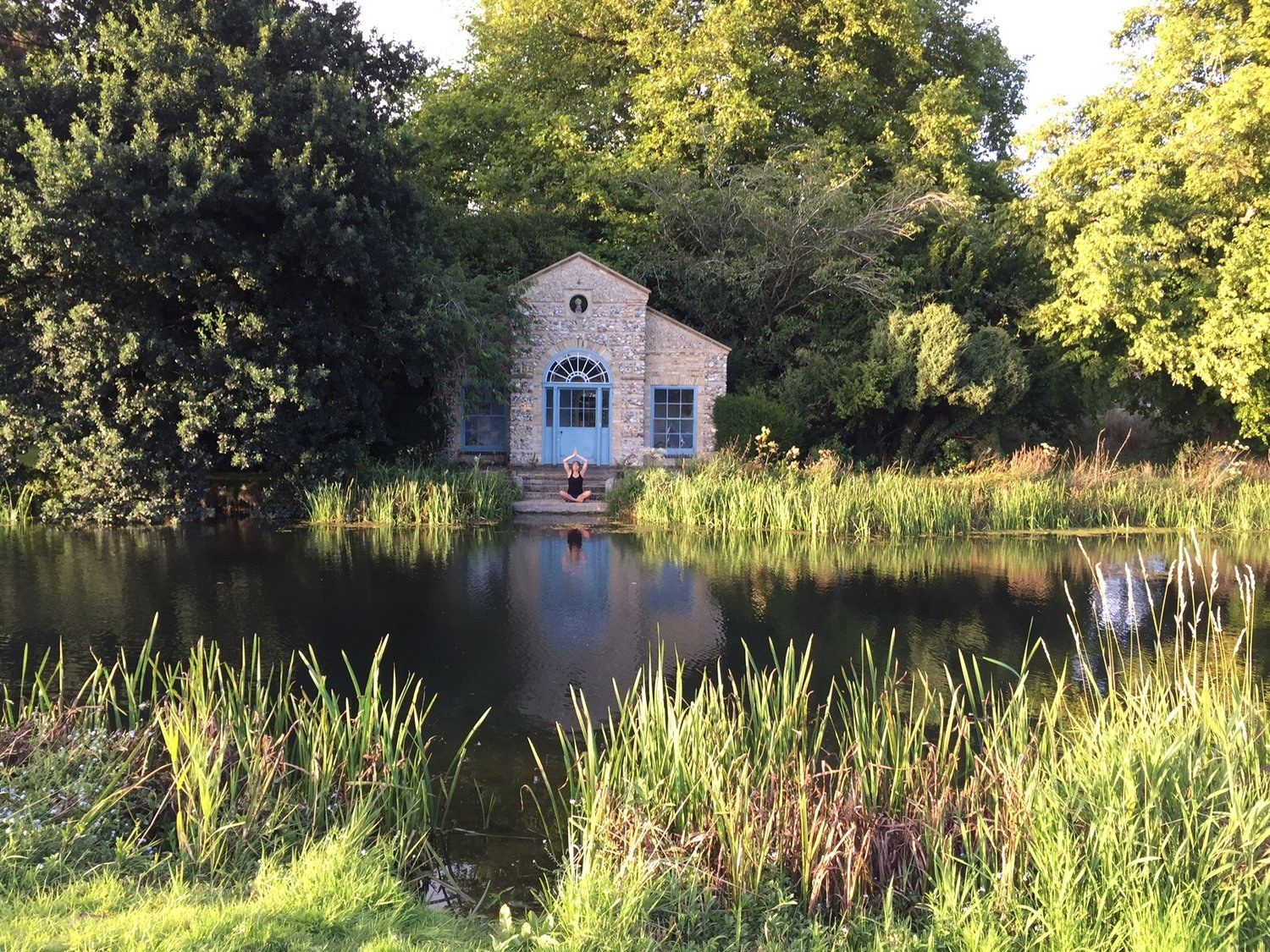 West Lexham
West Lexham is a unique venue perfect for a weekend yoga retreat in Norfolk – just 2 hours from London, 75 minutes from Cambridge and 45 minutes from Norwich. Set in a protected valley, it is verdant and bursting with nature. During the breaks, you can explore floating water meadows, ancient trees, lakes and formal gardens. The estate is 90% run on renewables with solar panels for power and a woodchip boiler for heat.
Everything in this yoga retreat centre has been built using traditional skills and eco building techniques using natural or reclaimed materials. The furniture is hand made and the whole location is filled with as much artistic flair as possible. This is more than just a yoga weekend – this is an oasis in which to actually live your creative, healthy and empowered future, and it promises to bring out the best in everyone
What to Expect
During the retreat, we'll focus on slowing down and deepening your yoga and meditation practice. We'll also learn Ayurvedic lifestyle and practice recommendations to align harmoniously with the season, so your health and well-being may flourish. I'll also be joined by a holistic chef and a holistic bodyworker offering massage and consultations at an additional cost.
Each afternoon there will be free time to walk in the country side, sit on benches overlooking the river, drink tea, read, or whatever else feels relaxing and restorative.
There is a real sense of community at these retreats and many participants return time and time again. It's a wonderful and welcoming environment for those who are new to retreats and/or yoga and meditation. These retreats are short and sweet, but offer just enough time to come back home to yourself without having to travel far.
Holistic Cuisine
The healthy seasonal vegetarian and organic delicious meals will be prepared with love by our private chef Hayley North. A great emphasis will be put on nutrition to support both your practice and life.
Hayley is a holistic chef with years of experience in retreats. Her knowledge of nutrition, food energetics and Ayurveda is coupled with a strong emphasis on ethically sourced produce and seasonal ingredients. Her food is influenced by travel, culture, tradition and her own yoga and meditation practice. This is food that not only tastes great, it is mindfully prepared and full of love, leaving you feeling great too! You can find out more at www.hayleynorth.co.uk/ Instagram @hayleysholistickitchen
Price
From £395


About the Facilitator
Margherita's teachings are grounded in the traditional lineage of Hatha yoga and the deep philosophy of Tantric practices married with the movement of Embodied Flow, the precision of Anusara yoga - one of the most heartfelt synthesis of yoga, and the energetics that are steeped in the tradition of Tantra and Ayurveda. She honors the traditions of yoga while awakening the true potential as an individual in the modern world. She hopes for each student to experience a journey that goes beyond the body and pierces deeply into the heart by weaving together asana, mantra, mudra, pranayama, meditation and chanting, along with shadow work, ritual, and a deep connection with nature.
To know more about Margherita please visit her website https://www.yogam.co.uk/retreats/yoga-weekend/yoga-weekend-in-norfolk-uk/