Sandi Sharkey: Transforming Mundane into Sacred
Islington's Sandi Sharkey reflects on over 20 years of teaching, since first playing with Bakasana in the attic at seven years old, and how yoga has helped transform the mundane into the sacred.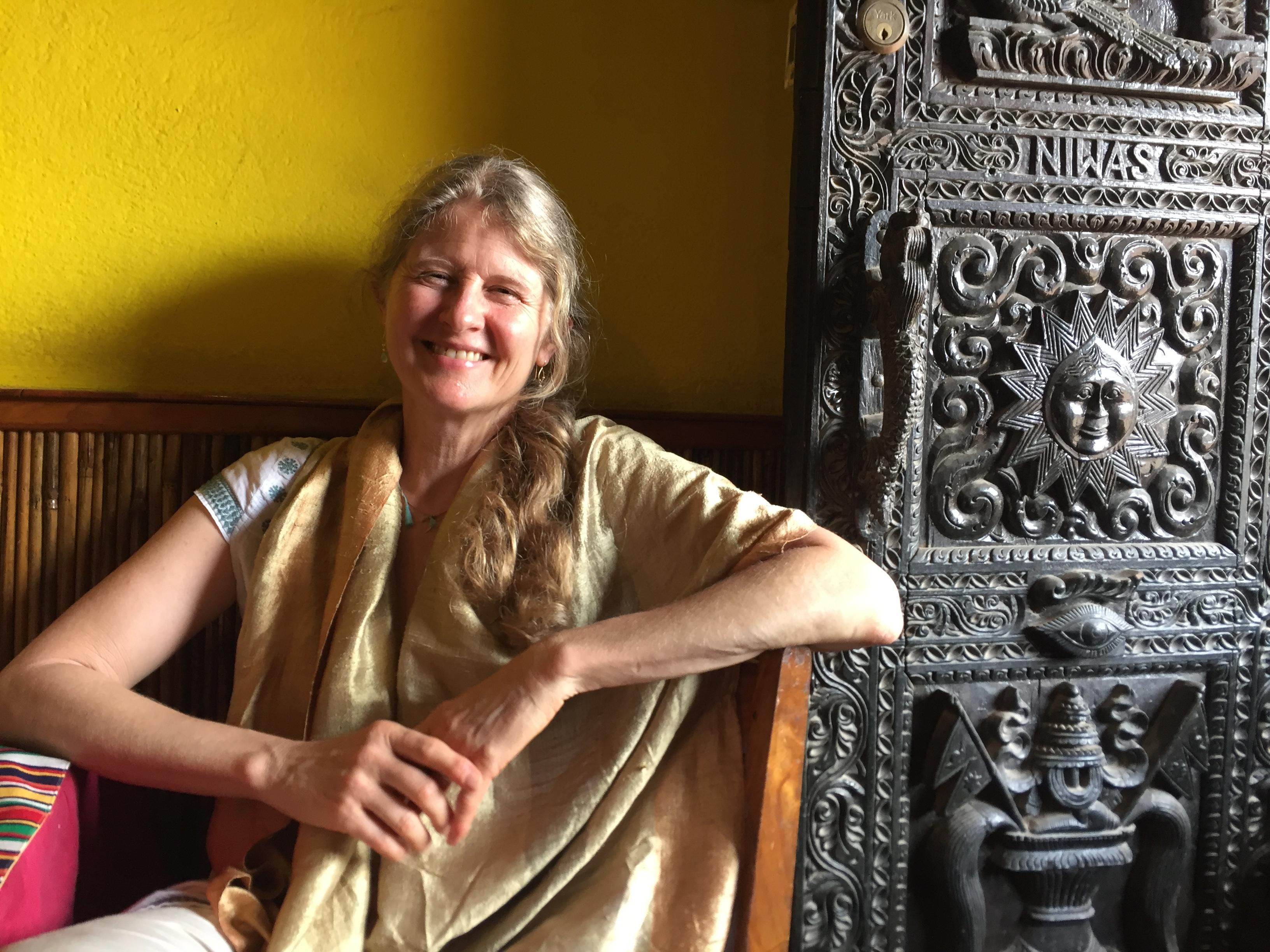 What, when and where was your first experience of yoga?

Actually, it was my father who first taught me. He was a neurosurgeon and an airplane pilot. He had a light, spiritual and contemplative nature. We were up in the large attic above our house, looking for a box, when he spontaneously started the lesson! I was seven years old.
In that one and only yoga lesson he taught, these are the postures he focused on:
Vksasana (tree)
Garudasana (eagle)
Bakasana (crane)
He told me practice of these postures develops greater focus and concentration.
What made you decide to move from student to teacher?

It felt like that decision was made for me. As a teenager, I was asked by a local yoga studio, to teach a Children's Yoga class. I was nervous, but agreed.
Looking back now, I cringe a bit remembering I was so serious that I did not say 'Hello' to the children as they arrived… It took me awhile to realise that welcoming students was an important part of helping them relax!
After university, I was asked to teach yoga in a hospital program for people struggling with addictions. As the years rolled on and more yoga studios appeared in North London, I continued studying. Teaching opportunities have been a privilege.
What teaching tip has had the biggest influence on the way you practice? And the way you teach?

In practice, we are consciously pooling fresh energy into the reservoir of the belly. By concentrating our attention in and down, we enrich and strengthen our connection to our selves and each other. When we touch this space inside of us, we realise that we are all connected at a most fundamental level. So when you are 'serving' another person, you are really serving yourself, it can become a seamless experience and not actually 'service' at all. In my classes, I hope to facilitate a space for this rich relationship so students can focus on cultivating spacious awareness of body, heart and mind.
What does your own self-practice involve?

I usually start with a few restorative postures in order to quieten and focus, then I make my dedications and appreciations for teachers, teachings, family and friends; then a seated meditation practice, prana mudra & chanting followed by asana and pranayama practices and inversions.
There is a famous Upanishad about yoga that says: 'Understanding without practice is better than practice without understanding: practice with understanding is better than understanding without practice; and resting in your authentic nature is better than any understanding and any practice.'
In general, I believe that whatever your practice is, if you can see compassion and wisdom are developing within you, then stay with it. If not, then it may be a good idea to change your practice! Can we live in a way that causes less pain to ourselves and each other? My life and work are dedicated to looking into the nature of suffering and awakening from that.
If you only had 10 minutes to practice, what would you do?

I would probably set myself up in a supported Viparita Karani (Legs up the wall) because it grants all the benefits of an inversion while being very nourishing and uncomplicated. However, if stressed, then I would do ten minutes of hand stands and sun salutations, consciously lengthening the breath and the spaces between the breaths in order to anchor into the present.
Who/what is the biggest inspiration on your yoga journey at the moment?

I have a neighbour who lives with her 94-year-old mother and her 12-year-old daughter. She is a constant carer and could easily feel trapped and depressed but she nourishes her self with a spiritual practice that enables her to embrace what is on her plate and celebrate life with loving presence.
What role does yoga play in the way you live?

I needed many years of yoga practice in order to calm down enough to meditate. Yoga has helped smooth out my energy. I am still restless, but able to sit daily. Meditation helps me to observe my mind and the joys and sorrows that arise and disappear.
There is a lot of repetition in practice and in parenting that when bestowed with meaning and lightness becomes transformed from mundane to sacred. Our daily lives are vehicles for awakening. If my child is sick, my yoga practice may very well be holding that child and being present. Yoga lives on and off the mat. Family life can be immensely challenging. My children are my fiercest yet most loving teachers. Can I bring heartfelt presence to what is?
What do you hope your students experience when they practice with you?

I hope they experience rich self-connection, inspiration and community.
Which yoga text could you not live without?
At this point in time, I would be hard pressed to live without The Yoga Sutras, by different translators. The Yoga Sutras was originally sung in the oral tradition and when it was finally put into print, there are many translations and interpretations. Quite recently I read a brilliant and provocative remix called Threads of Yoga by Matthew Remski. The other text I reread from time to time with appreciation is The Yogayajnavalkya Samhitatranslated by TKV Desikachar.
Describe the meaning of yoga in 10 words or less.

Quiet space inside
Where we know
All can be well.
Sandi teaches the following classes at Islington:
Monday
6.30-7.45pm ~ Yoga Level 1
8.00-9.30pm ~ Yoga with Meditation Level 1-2
Tuesday
6.30-8.00pm ~ Pregnancy Yoga
8.15-9.45pm ~ Yoga Beginner's Course
Thursday
10.45am-12.15pm ~ Mums & Babies Yoga
12.30-1.45pm ~ Pregnancy Yoga
Meet Sandi on the Mat
Sandi teaches Yoga, Pregnancy Yoga and Mums & Babies Yoga at Islington. She also teaches regular beginners courses.
Book a class
---