Scaravelli Inspired Yoga with Tanya Love
Tanya Love teaches an explorative, anatomically intelligent form of yoga, dedicated to listening to your body.She has studied anatomy in depth, her practice is also influenced by body/mind therapies and she considers yoga and movement practices to be profoundly therapeutic. In this interview we get to know her a bit better. Read about Tanya's yoga journey and what inspires her.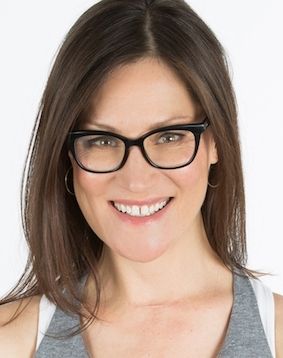 What inspired you to make the move from student to teacher?
I came to Scaravelli Inspired yoga by accident, I'd booked myself into a retreat in India because the place and date suited me without knowing anything about Vanda Scaravelli's approach to yoga, or understanding how different the work would be from the dynamic practice I had at the time. It gave me a feeling of a new ownership of my practice, a way of exploring my body that wasn't so focused on making a particular shape and crucially it allowed me to recognise how much I had taken my goal orientated, ambitious personality into my strong vinyasa practice. Not long after coming back to London I sought out Scaravelli Inspired teachers and I started working with Catherine Annis, after a few months I was lying on my mat at the start of class listening to her, feeling that she'd just given voice to an insight I'd recently had myself, and it dawned on me that yoga had become the most vital ingredient in my evolving relationship with myself, that my practice affects how I feel every moment of every day – and that made teaching yoga become exactly the thing I wanted to do.
What is your favourite yoga book or text and why?
My favourite yoga book is a hard thing to choose as there are a few well thumbed, much loved books on the shelf that I come back to again and again, but if I have to pick just one then "The book on the taboo against knowing who you are" by Alan Watts, because I feel inspired by his ability to take ancient philosophies and distill the profound teachings into simply told, funny, analogies and stories that just make me think, "Ah, yes, I get that now!"
What do you think causes injury in yoga practice and how can it be prevented?
One of the key intentions I hold for my teaching is to encourage people to deeply listen to their body, to move slowly and with curiosity, interested more in improving quality of movement rather than extending the range of movement (though that can happen as a by product). So, for me, the focus is to cultivate sensitivity, I think that perhaps the most injurious tendency I notice is an urge to bully our own bodies, to go into competition with ourselves and push or force our bodies to the point of damage because we are listening more to the conversation in our heads about going deeper and getting it right and pushing ourselves harder than hearing a knee saying no thanks, that's enough.
What makes a good teacher?
The thing my favourite teachers have in common is authenticity, they teach what they practice, and I'm really drawn to teachers who don't take themselves too seriously, who create an inclusive atmosphere and encourage and respect their students.
What do you wish to inspire in your students?
That they are the experts on their bodies.
If you only had 20 minutes to practice, what would you do?
I always start lying on the floor, just to tune in and see where my attention is drawn, the practice comes from that. I'm very playful and free form! Often a seated meditation will turn into movement, or a pose will morph into something else, but there's always a good dose of lying down, noticing, and exploring whatever movement or body part is calling my attention. And there's always some downward dog.
Where do you see yourself in 10 years time?
I don't often imagine myself so far into the future, I'd like to think I will still be just as in love with movement and teaching. I'm just starting out on some body psychotherapy training which is really inspiring me – it's about using mindfulness and awareness of bodily experiences to assist with self discovery, so perhaps I'll be practicing that, and exploring the therapeutic benefits of yoga.
Tanya teaches Scaravelli Inspired Yoga every Monday 9.45-11am at Notting Hill.
Meet Tanya on the Mat
Join Tanya for Scaravelli Inspired Yoga on Monday mornings at Notting Hill.
Class Schedule
---