Spring Awakening Retreat at Suryalila with Erika Tourell - 18-25 April 2020
Join Erika to welcome the arrival of Spring in the gorgeous setting of Andalucia. Surrounded by stunning rolling hills, sweeping vistas of lakes and fields of spring flowers, Suryalila is the perfect location to revitalise yourself.
Suryalila is a unique and beautiful old renovated olive farm, deep in the heart of the lovely Andalucian countryside, in the south of Spain and only an hour from Seville. The residency buildings are surrounded by mountains and are charming, spacious and beautifully decorated with an exotic eastern flavour. There are both indoor and outdoor dining areas and plenty of cosy hang out spots. The spacious yoga shalas have many windows overlooking the surrounding countryside, stunning hard wood floors and are fully equipped with mats, bricks, blocks, bolsters. blankets, straps, and eye bags.
Nurture your body and mind with twice daily classes per day, and indulge in delicious organic vegetarian cuisine. Soak up some sun by the salt-water swimming pool and experience the detoxifying effects of the sweat lodge made from environmentally friendly materials. There is a riding stables on the premises as well as bicycles to borrow to enjoy the great outdoors. There are lots of beautiful places to walk and you can visit to the local white villages or travel further afield to Ronda, Cadiz or Seville. There will also be one or two resident therapists available to give bodywork sessions in the afternoons, as well as a fabulous shop for those of you that enjoy retail therapy.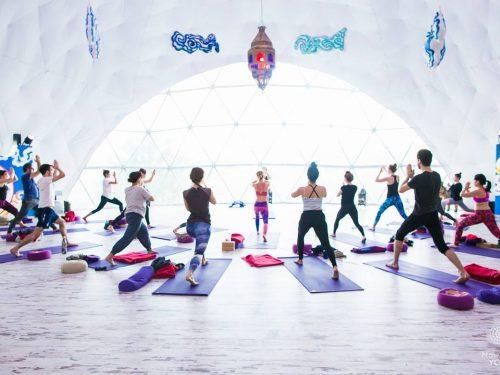 Erika will offer around five hours of practice daily including a wide range of dynamic and restorative yoga - (hatha and kundalini) partner work, pranayama, meditation, yoga nidra, mantra meditation and singing, ritual / ceremony, nature connection and much more. There will be one afternoon off during the week for excursions further afield.
Each day of the retreat will begin with silent meditation (optional for those of you who are not early risers), followed by an active morning Yoga class. Morning asana practice will focus on gentle warming and hydrating practices that loosen and release the body as well as strengthening and stabilising sequences. In the afternoons we will focus on Restorative Yoga practices as well as the deeply nourishing practice of Yoga Nidra (a guided meditation technique designed to move you into a profound state of relaxation and self awareness).
Approximate schedule (may be subject to change)
7.00am Morning meditation, pranayama and yoga
9.30am Breakfast
1.00pm Lunch
Free time
4.30pm Restorative / Yoga Nidra / Yin Yoga
7.00pm Dinner
Flights to Seville or Jerez de la Frontera. Transfers (not included) will be arranged for you and we will do our best to arrange shared taxis for all those arriving on the same flights or similar times. There are trains and buses too.
Cost includes: Three gourmet, organic meals a day, unlimited tea and fruit, accommodation, saunas, all yoga classes and use of equipment.
Deluxe double with private bathroom
Single £1400.00 Shared £1200.00
Superior double/twin with shared bathroom (with one other room)
Single £1300.00 Shared £1100.00
Large yurt (one double bed, one double sofa bed)
Single £1200.00 Shared £995.00
Glamping / fully furnished bell tent
Single £950.00 Shared £795.00
Four bed women's dorm
£795.00
You will be required to pay a £300.00 (non-refundable) deposit. The balance will need to be paid eight weeks before departure.
About Erika
Erika has over thirty years of healing, yoga and meditation experience. She draws on a wide range of experience and many yoga styles including Hatha: Iyengar, Ashtanga, Yin/Yang, Yoga Nidra, Restorative, Tantra, Kundalini Yoga, Vipassana meditation, Advaita Vedanta philosophy and Buddhism. She has been teaching yoga full time in London's top yoga studios and leading retreats internationally for over twenty years. She also is a part of the Teacher Training Faculty at Triyoga.
Erika is passionate about natural healing and loves nothing more than to hold the retreat space to offer a precious opportunity for people to experience a profound awakening through yoga using movement and stillness, sound and silence, challenge and relaxation in a soulful, nurturing environment. Erika is constantly inspired by the transformations that she has witnessed in the lives of people through the healing power of yoga.
Testimonials
"Erika Tourell is one of the most nurturing yoga teachers that I've experienced. I find her classes both deeply nourishing and physically stimulating. I particularly enjoy learning and practicing in a non-competitive atmosphere, which encourages me to pursue my own goals without any pressure to keep up with others."
J.L

"I have just spent a heart warming, invigorating and nurturing week with Erika on her yoga retreat at Suryalila .Erika is a finely tuned, dedicated yoga teacher with so much wisdom, kindness and love for what she does. Her sensitivity and experience with how she built up the practice over the week, the choice of music and readings she delivered were always spot on. The knowledge that I could go at my own pace and rest when I needed to gave me the experience that I was fully there for my own wellbeing.
Erika's ease, professionalism and non-judgemental way of teaching, the variety in the practice and the special evening of free flow dancing has inspired me to book for next year with her at Suryalila- so really that sums it up for me - I can't wait to do it again!"
M.H