Switching on the lights with Lisa Sanfilippo
"I want to help my students to 'switch on the lights' in the body—waking up parts that are tight or asleep, and carry this 'waking up' into the mind and the soul." We meet yoga teacher Lisa Sanfilippo.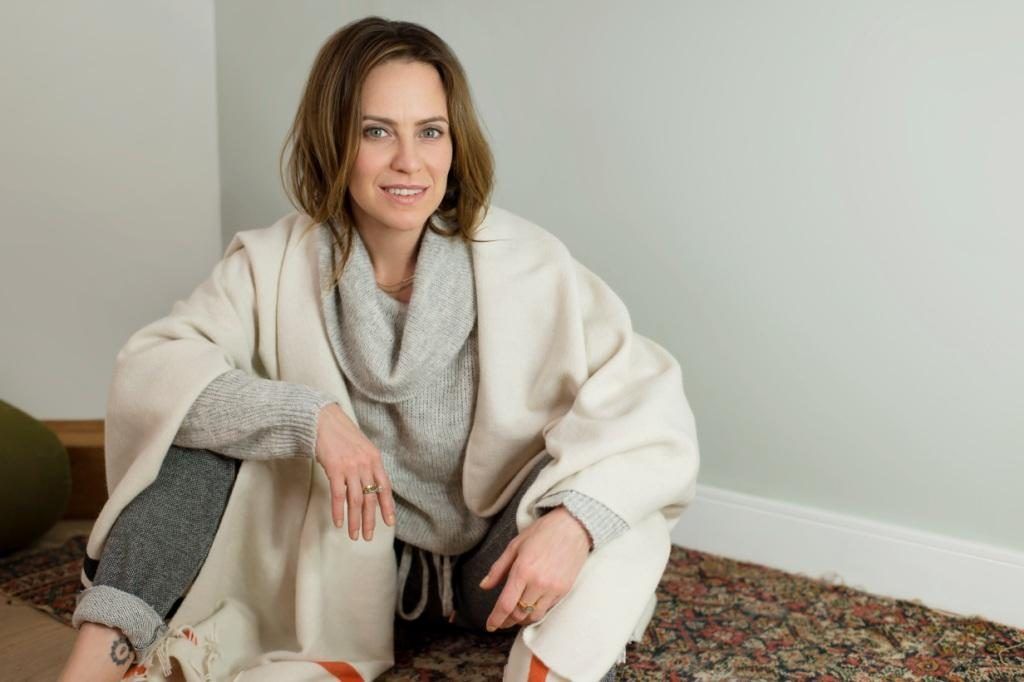 What, when and where was your first experience of yoga?

I started yoga in my early 20s in New York City, curious but skint. I began doing the postures from a photocopy of the Integral Yoga Centre's sequence that a colleague had tacked above her desk, taking it backpacking around Europe with me! When I returned to NY I took the plunge – my first class was with a poet and viniyoga teacher in the basement of a gym in Brooklyn. My first slow long breaths, and deep stretches, supported by my teacher's poetic imagery and soulful approach- I was hooked!
What made you decide to move from student to teacher?

I was asked! I was at the London School of Economics studying for my MSc when I decided to try a Kundalini class with the LSE Yoga Club. Afterwards, I felt so open and free in my body that I started doing some classic asana and vinyasa. The teacher, who was the head of the club said "Hey, you look like you know what you're doing… do you want to teach for us?" I thought for a moment, said "Absolutely…" and then got cracking. I learnt how to teach, trying it out on friends, moving the desks and chairs and tossing away fast food wrappers in the Social Policy common room to give my first classes… Eventually I got some rigorous teacher training and pursued it all properly! I guess when the teacher is ready… the students appear.
What teaching tip has had the biggest influence on the way you practice? And the way you teach?

The Anusara method gave me a strong sense of alignment and more mature relationship to my practice- incorporating the spiritual and soulful into movement. It made me realise that the body is a mirror for everything going on every level within us. As I'm training as a transpersonal psychotherapist, what I'm learning about how we change and grow as people is hugely influencing what I'm able to bring through in my practice and teaching.
The biggest things I've learnt about teaching:

1. Look for the 'good' first. The primary goal is to bring out the best in the people in the room. It's essential to see a student's strengths and their unique characteristics- enhance and assist these, rather than make the person conform to a template or 'correct' what's 'wrong'.
2. Say 50% less! My teacher, Sianna Sherman, taught me to pause, get quiet, and watch. This enables me to receive feedback, adjusting my teaching to what's needed at any moment. I've become a more skillful and responsive teacher through this.
What does your own self-practice involve?

Yoga, on and off the mat. The goal of it all is that the yoga helps me to be a better, more conscious person.
Physically, I always stretch my hips, thighs, hamstrings, do a deep twist, a heart opening backbend and an inversion of some sort, followed by some cooling forward bends. That's the daily set-up. When I do that I feel set and sorted. Some days, especially if I've been to the gym or out dancing 5 Rhythms, I feel strong and playful- and enjoy noodling around with handstands, arm balances, walk-overs and other 'sparkly poses' because it's empowering and fun.
Off the mat, each day involves conscious breath work- everywhere from my living room to when riding the tube- and meditation of some sort. Contemplation- from journaling to working with a therapist (I'm training as a psychotherapist myself) helps me to grow and evolve in Jnana yoga (self knowledge). I also do the Bhakti (devotional yoga) of spontaneous iPod dance parties in my kitchen and sing as much as I can- whether to Narayani's Sanskrit chants or infectious pop songs. If it serves the soul, it's yoga.
If you only had 10 minutes to practice, what would you do?

A yoga asana quickie: a little cat/cow/dog to start, a deep kneeling lunge, then a (pigeon pose), twisted thigh stretch half and deep hamstring stretch like hanumanasana. I then love a deep twist (like ardha matsyendrasana) and a chest opening backbend like little bridge pose (setu bandhasana) or full wheel followed by a little back-lengthening and twisting. Any day that involves a headstand is always a better day, so I'll often work that in, before a few deep forward bends and a moment of relaxation. When I have just 10 minutes but really need a rest? I lie down and do legs up the wall (or the chair) pose to power-down my nervous system and get some headspace.
Who/what is the biggest inspiration on your yoga journey at the moment?

What really inspires me? People who show that doing yoga makes you a 'better person'. People who have overcome adversity and learnt to be more conscious, compassionate and free. Training at the Centre for Counselling and Psychotherapy Education is amazing- I call it the magic academy- like 'Hogwarts for Headshrinkers!' and see my colleagues in training all becoming more authentic, more alive and more fully themselves- so I feel the process works- and I'm loving that!
The two biggest yoga teaching influences are Anodea Judith, the world's great authority on the Chakra system- herself a therapist and yoga teacher- who brings every part of ourselves to the yoga practice. She and the incomparable Sianna Sherman, my teacher for 10 years, who always inspires me to hone the craft of teaching while becoming more authentic and playful.
What role does yoga play in the way you live?

Yoga is a great organising principle for being myself- with more strength, vitality, and compassion. Only one part is asana. Practicing yoga means having a framework and practices for being more alive. What counts as Yoga, for me, is what helps me to be more aware of the cues from my body, more alert to my mind, and more attuned to my heart. Sometimes it's stretching, sometimes it's engaging and strengthening. It's whatever brings consciousness, breath and a sense of responsibility for myself into everything else I do- whether it's boxing, dancing, collaborating with people, or interacting with strangers in a shop.
What do you hope your students to experience when they practice with you?

I want to help my students to 'switch on the lights' in the body- waking up parts that are tight or asleep, and carry this 'waking up' into the mind and the soul. I hope they feel that they can 'come as they are' bringing their energy, passion, and curiosity… as well as bringing their tiredness, their injuries, and their need to be looked-after and uplifted for that hour and a bit! I encourage them to take what they learn into their lives- breathing, moving and living more freely.
Describe the meaning of yoga in 10 words or less

Switching on the lights: to live, laugh and love more.
Lisa teaches Yoga on Wednesdays 6.15-7.30pm at Islington.
She also teaches regular courses and workshops on a variety of topics including Yoga for Sleep Recovery.
Meet Lisa on the Mat
Join Lisa for her weekly Yoga class on Wednesdays at Islington.
book now
---