Zephyr Wildman: Dancing into Serenity
From throwing yoga shapes with her mum in thong onesies to yoga as a therapeutic way to reconnect, Zephyr Wildman shares the practice that's taken her from dancing in 80s Idaho to finding serenity at our Notting Hill centre today, plus the teachers and texts that helped get her here.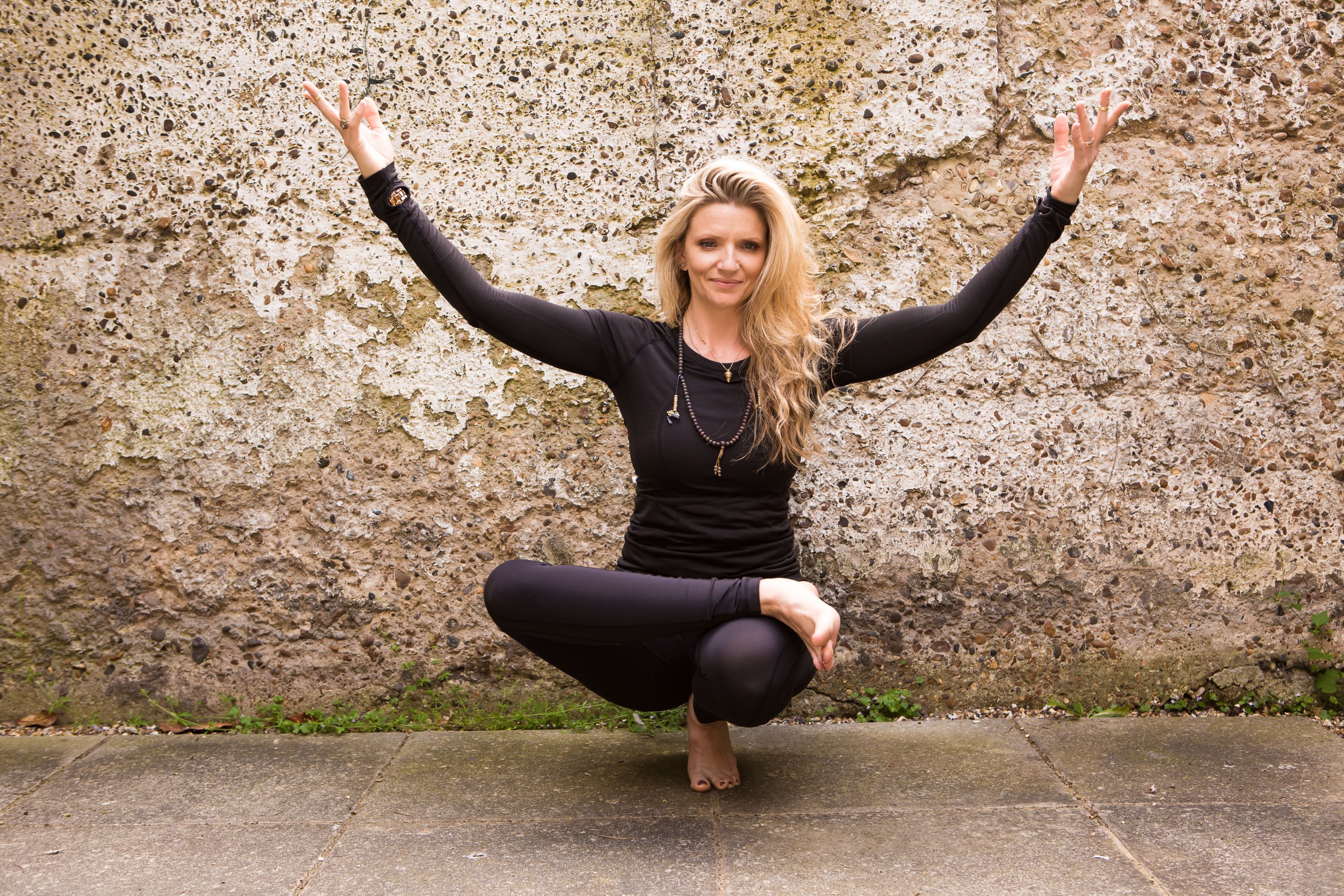 What, when and where was your first experience of yoga?

My first yoga experiences were with my mum, Barbera Bashan and her girl friends. She taught at the YWCA in Boise, Idaho. Back then, I remember brightly coloured outfits, thong onesies, and headbands, straight out of the 80's. I would be running around a bunch of women doing a mixture of aerobics, light weights and yoga. It made a big impression in my memory that moving the body was a way for these women to release, reconnect and laugh together.
As time went on the yoga became more formal and I rebelled. I created a art collage of my mum's favourite images to plead with her to stop making me do yoga. This worked and instead I pursued my passions of running in the foothills, mountain biking, rock climbing, white water rafting…however if there was a chance to dance with my mum, which always involved doing yoga shapes, I was in!
What made you decide to move from student to teacher?

Louise Grime was one of my first Yoga teachers in London. I had been practicing with her for a few years, and then one week she wasn't able to lead the class she taught at the Tabernacle. If you know Louise, you will know if she says "you are going to teach for me next week", you do! I received positive feedback and she then suggested I look at the teacher training program that The Life Centre was creating. She encouraged me yet again to enroll and I am truly grateful to her for her support, teachings and guidance.
What teaching tip has had the biggest influence on the way you practice? And the way you teach?

Not to use yoga as an exercise, to use yoga as a therapeutic way to reconnect to the subtle body. I love moving my body and for me it is the direct way I can get into practicing and receiving the benefits of mediation.
What does your own self-practice involve?

My self practice is bespoke, depending on the day, time and season, however I emphasise strength-based asana as I am hyper flexible. This leads on to Pranayama, Mantra and Meditation. I also practice between 25 minutes -1 hour Yoga Nidra two to three times during the week.
If you only had 10 minutes to practice, what would you do?

Simple asana to sitting, then mantra and meditation.
Who/what is the biggest inspiration on your yoga journey at the moment?

The people who inspire me as teachers are Rod Stryker, Richard Freeman and Doug Keller. These three men create a foundation for me in which I can continue to teach within strong lineages of Yogic traditions.
Also, my students. They inspire me to be a better teacher, to continue unfolding and discovering more to pass on. I find the more I am of service to help, guide and heal others, the more I heal myself.
What role does yoga play in the way you live?

The quality of our life is shaped by energy. Yoga gives me a methodology to align myself to experience the fullest potential of my nature today. On my personal journey, each day I find relationship, thought and feelings to be my greatest teachers. I try to practice these Yogic principles in all of my affairs.
I am grateful today to have a body to move with and practice asana, however I invest more in the other aspects of my yoga practice which align me with an experience of serenity, a feeling of compassion and the empowerment to participate in my life fully.
What do you hope your students to experience when they practice with you?

I try to create environment where we all come together with the common intention to heal, be present and reconnect to a greater purpose. The intention is that they leave class with a residue of serenity that will help them continue their day mindfully.
Which yoga text could you not live without?


Yoga & Ayurveda, David Frawley
The Tree of Yoga, B.K.S Iyengar
Light on Life, B.K.S Iyengar
Bringing Yoga to Life, Donna Farhi
The Four Desires, Rod Stryker
The Mirror of Yoga, Richard Freeman
When things fall apart, Pema Chodron
Don't bite the hook, Pema Chodron
A path with Heart, Jack Kornfield
The Yoga Sutras of Patanjali, Sri Swami Satchidananda
Ayurveda and the Mind, David Frawley
Eastern Body Western Mind, Anoda Judith
The Physics of Healing, Deepak Chopra
The Yoga of the Nine Emotions, Peter Marchand
Path of Fire and Light, Swami Rama
Fearless living: Yoga and Faith, Swami Rama
The Yoga Sutras, Nicolai Bachman
and could list more….
Describe the meaning of yoga in 10 words or less

Yoga is a Science of Body, Mind, Spirit to Heal, Be and Reconnect.
That is hard! Sorry 13 words…
Zephyr teaches the following weekly classes at Notting Hill:
Mondays
8.45-9.15am ~ Meditation
9.30-10.45am ~ Slow Flow Level 2
5.30-6.30pm ~ Slow Flow Level 1-2
Wednesdays
9.30-10.45am ~ Slow Flow Level 2
Fridays
4-5.30pm ~ Slow Flow with Meditation Level 2-3
5.45-7.00pm~ Slow Flow Level 1-2
Meet Zephyr on the Mat
Find Zephyr in class at Notting Hill on Mondays, Wednesdays and Fridays.
Book a class
---