A Conscious Practice: From Injury Prevention to the Power of Letting Go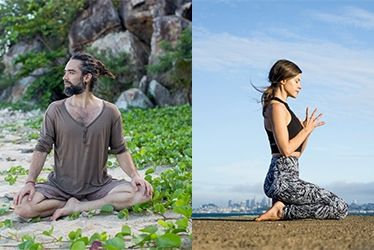 Schedule & Booking
Date: 01/06/2019
Teacher: James French & Laura Burkhart
Price: £80.00
Morning Session: 9.30-12.30pm
Afternoon Session: 2.30-5.30pm
Earlybird price of £40 per session or £70 for the full day applies until 26 May
View class schedule
Classical Yoga offers us 10 guidelines to help us cultivate a more Conscious Approach to Life... they are called the Yamas and Niyamas. Often these guidelines are thought to be separate from our Asana practice but in fact our time on the mat is the perfect place to begin to embody them!
In these two fun and informative workshops, good friends Laura and James will guide us through how these concepts might apply to our daily practice. The sessions will be made up of a combination of mini-lectures and a flowing Asana practice.
The Yamas and Injury Prevention - 9.30-12.30pm
Non-Violence, Truth, Non-Theft, Energy Conservation, Non-Attachment.
In this workshop we will move through a flowing sequence, pausing at key points to go over mindsets and approaches to specific Asanas that can cause injuries, as well as talk about updated ways of thinking, and refining alignment to cultivate a safer practice.
The Niyamas and The Heart, The Hips and The Art Of Letting Go - 2.30-5.30pm
Purification, Contentment, Self-Discipline, Self-Study, Surrender
In addition to exploring how we can incorporate these topics into our daily practice, we'll move through a well-rounded practice to open the hips and heart. We will peel away external influences, toxic emotions, unhealthy expectations, and explore the art of letting go.
Laura and James are two teachers with different disciplines and backgrounds who delight in the common language of Yoga.
Laura Burkhart (500 – E-RYT) is a San Francisco based international teacher and featured online teacher. Laura's smart, creative, well-rounded classes are intelligently sequenced with a smooth, rhythmic flow. After experiencing and learning from her own yoga injuries, she is a strong advocate for safe alignment and sequencing while still keeping the practice fun. Laura is a regular contributor for Yoga Journal Magazine, has taught workshops and presented at festivals around the world, and co-leads 200-hr teacher trainings with her primary teacher, Jason Crandell.
Learn more at LauraBurkhartYoga.com @LauraBurkhartYoga
James French (500 – E-RYT)teaches Hatha and Vinyasa internationally. He spends 6 months of his year living in India studying and practicing yoga and spirituality. The other 6 months are spent teaching, and running Teacher-Trainings with his school Pathofyoga.co.uk. He works to make spiritual practice and self improvement accessible to all...Focussing on the journey within, releasing the false identifications which we have accumulated and rediscovering our True Nature.
Learn more at Yogijames.com