An Introduction to the Art of Thai Yoga Massage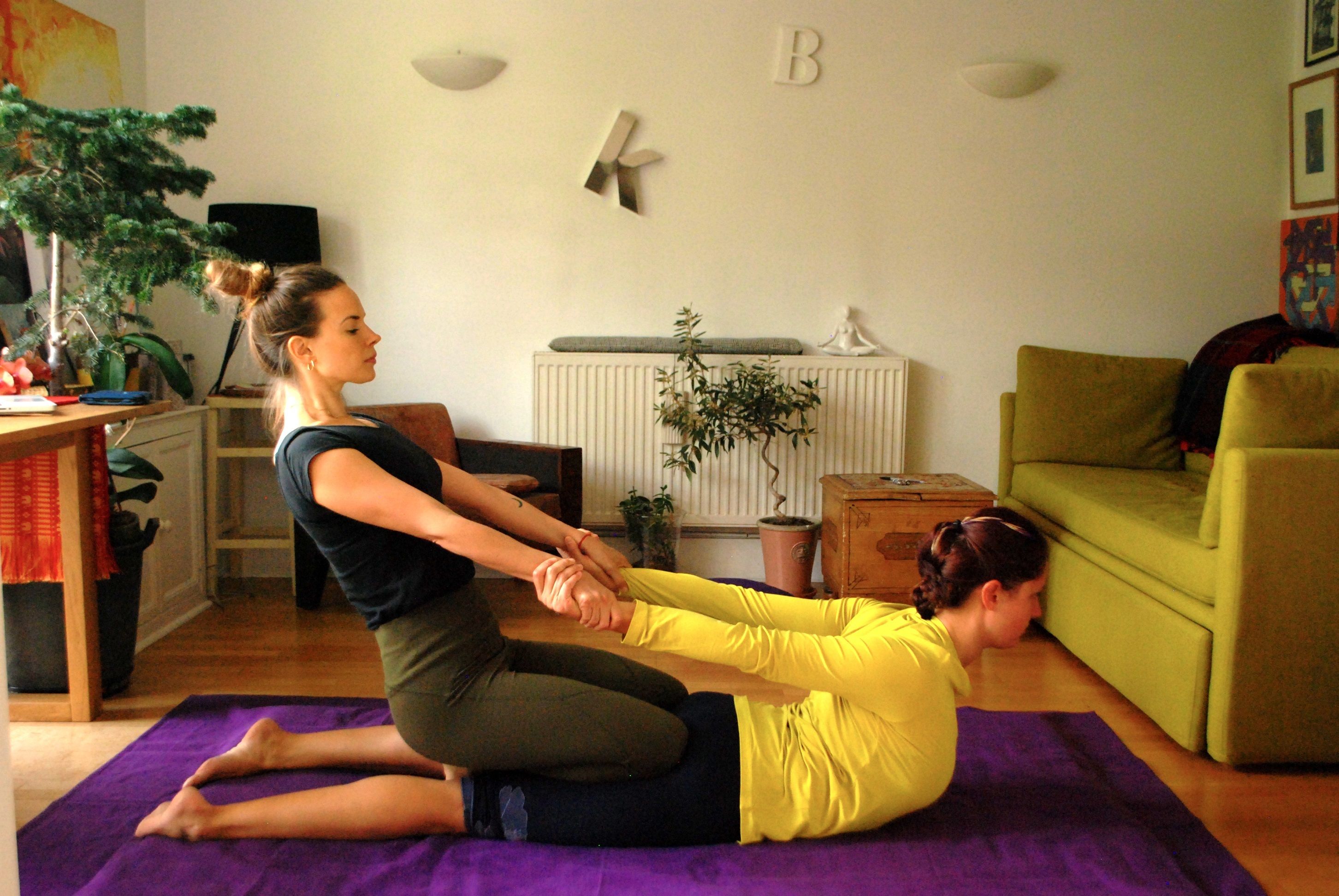 Schedule & Booking
Date: 28/09/2019
Teacher: Ana Seymenska & Daria Germondari
Price: £40.00
14.00-17.00 at Islington
Earlybird price of £35 applies until 21 September

View class schedule
Thai Yoga Massage is a unique massage therapy rooted in Yoga philosophy, Ayurveda and Buddhism that combines acupressure and gentle stretching to bring balance and flexibility. By working the invisible energy lines of the body (the Ten Sen similar to Chinese Meridians) the practice aims to free the recipient from aches, pains, anxiety and fatigue.
In this workshop, we will learn a simple but effective Thai Yoga Massage routine to relax and revitalise, improve flexibility and ease the aches and pains of everyday life. The method has been crafted to utilise a diverse kit of techniques making it adaptable to anyone regardless of age, level of flexibility and state of health.
We will begin with a discussion on the theory behind Thai Yoga Massage and some of the characteristics that make it so unique and effective; then dive into a hands-on practice with a sequence of techniques in supine and sitting position. You will leave with a new set of skills and a handout of the sequence to practice on your family and friends!
Get ready to have a fun and relaxing afternoon.
Suitable for beginner yogis, or advanced practitioners alike. There will be some partner work but no need to come with a partner.
About the teachers
Ana is a Thai Yoga Massage practitioner and Assistant Teacher at the School of Thai Yoga Massage, London. She has experience in the healthcare and wellness field for nearly 10 years and has special interest in alternative and integrated medicine. Ana started her Thai Yoga Massage journey in 2012 when she was introduced to it by a fellow physiotherapist. Since then Ana has been studying extensively, taking part in various courses and workshops with different teachers, mainly under the mentorship of Kira Balaskas at the School of Thai Yoga Massage, London.
Daria is a Yoga teacher and a Thai Yoga Massage therapist having found a passion for both ancient healing practices. Both traditions work on the basis that the teacher or therapist is there to support, facilitate and foster an energetic shift, normally in the form of freeing the flow of blocked energy in the physical, emotional, spiritual and energetic layers of the body.
Through her classes and massages she aims to generate body awareness, promote spiritual and emotional growth, as well as increase vitality, inner peace and deepen the connection between body and mind.