Chant Malas Making Workshop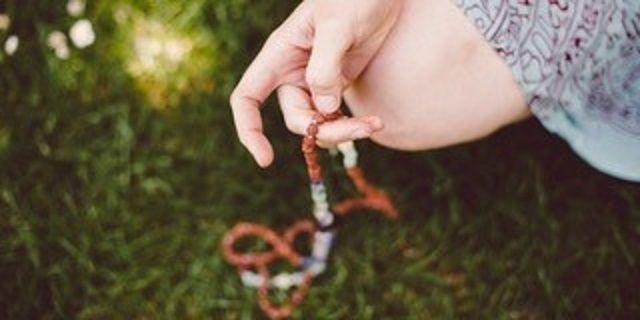 Schedule & Booking
Date: 20/10/2019
Teacher: Helen Kathleen
Price: £50.00
13.00-17.30 at Islington
Book by 13 October to take advantage of the earlybird price of £45
View class schedule

Join Found and creator of Chant Malas, Helen, for four hours blissful meditation, mantras and mala-making.
You will create a fully hand-knotted rudraksha mala with gemstones and a tassel - all of your choosing!
Price includes an introduction to crystal healing (the stones and their properties) and the origins of mala beads, mala-making (all materials included in the price), and mantras to use with your mala.
Please note there is no official break during this workshop, so please bring any snacks and drinks that you may need. We also recommend you dress comfortably and bring glasses if you need them.

About Helen:
Helen is a mum of two and a Hove resident. She began creating mala beads in 2014, around the birth of her first child, when she become more immersed in her own japa meditation practice as she prepared for her first birthing experience. Helen's designs can be found in a number of yoga studios around the UK including The Life Centre and online via her website as well as Yoga Matters. She gave up her job as an English teacher of 10 years in 2017 to focus on creating mala beads, writing and delivering mala-making workshops. She is passionate about yoga, meditation and the creativity that can come from both. Her designs are inspired by her yoga practice, nature, the goddesses of the world, world literature and people.
Contact
020 7704 0919
islington@thelifecentre.com
Location
1 Britannia Row, London N1 8QH
Opening Hours
Monday–Friday: 07.15–21.30
Saturday: 08.30–19:00 (unless there is an evening workshop taking place)
Sunday: 09:00–19:30