Sound Bath Bliss: Your Oasis of Deep Chill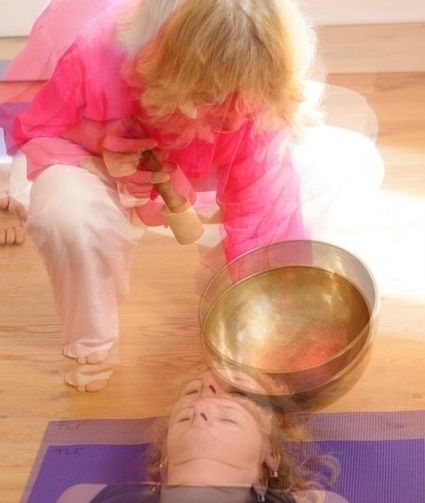 Schedule & Booking
Date: 08/12/2019
Teacher: Anne Malone
Price: £22.00
2.00-4.00pm at Notting Hill
Earlybird price of £20 available until 1 December
View class schedule
Bathe and relax in the healing vibrations of Tibetan Bowls, Gong, Hang, Sansula, Shamanic Drum and Rainstick, as your body resonates within these pure tones, you begin to feel refreshed and retuned.
Sing your heart into the bliss of Mantra and the joy of chanting together, move and flow into motion, ready to sail into a blissful week.
Lazy Sunday Afternoon … Oasis of SoundBliss.
'Anne's SoundBath is the perfect counterpoint to the stresses and hassle of living in a major city. The music is sublime, played on an assortment of instruments that include rain sticks, gongs, guitars and hang drums and Anne's stunning voice transports the room to a haven of tranquillity. Sound actually becomes physical when Anne places a singing bowl on various "chakra areas" of the body, its vibrations coursing through every cell. I can honestly say it's one of the highlights of my week.'
Michael Reece, Artist
Contact
020 7221 4602
nottinghill@thelifecentre.com
Location
15 Edge St, Kensington, London W8 7PN, UK
Opening Hours
Monday–Friday: 07.15–21.30
Saturday: 08.30–19.00
Sunday: 08.30–19.30