Yoga and the Art of Mudras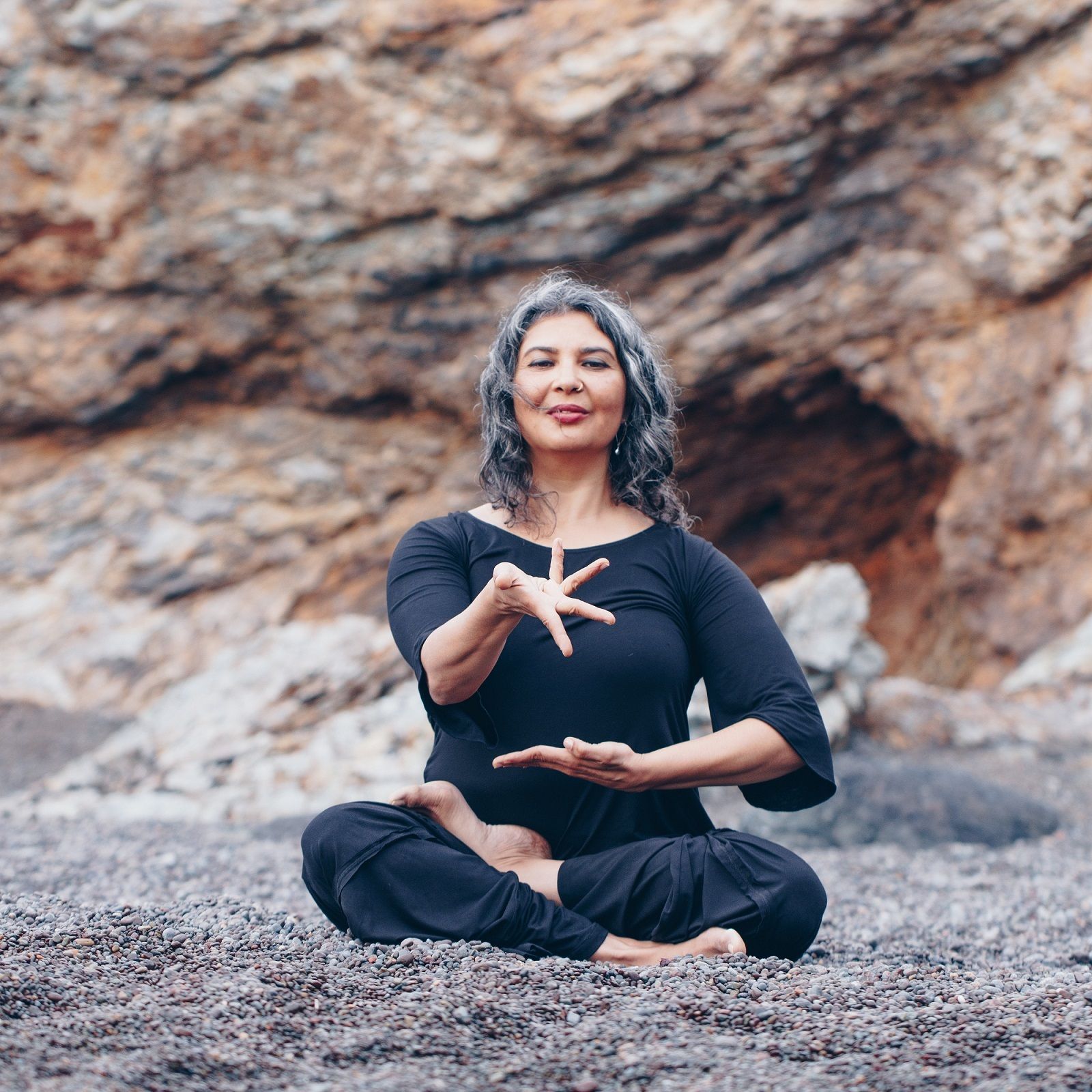 Schedule & Booking
Date: 13/07/2019
Teacher: Nubia Teixeira
Price: £40.00
10.00am-1.00pm at Islington

This workshop is now sold out, but there are still places remaining for Everyday Bhakti: Walking in Devotion with Jai Uttal which follows this workshop.
View class schedule
Author, yogini, teacher trainer, and Odissi dancer, Nubia Teixeira will introduce you to her vision of how to embellish and empower your yogasana with mudras that are symbolically representatives of the Gods and Goddesses of Yoga and poetically expressive of the beauty of Nature.
Her aim is to give you a resource to grace your yoga practice with the transporting keys of the hand-gestures.
In this workshop Nubia will share her love and passion for the practice of mudras, some of the gems that she has collected for via dedicated practice, and her mastery and expertise on combining mudras with asana to expresses the inspired storytelling from Bhakti, the devotional tradition of yoga. This is also an opportunity to delve deeper into Nubia's book, Yoga and the Art of Mudra which will be available to purchase and be signed by the author herself.
About the Book
Yoga and the Art of Mudras is a guided journey into the alchemy of asana (yoga pose) and mudra (symbolic hand gesture). In this book, Nubia fuses her passion for yoga and dance with her love for bhakti (devotion). In so doing, she has created a unique and contemporary yoga system that encompasses all three healing arts.
In this half day workshop, you will:
Experience and embody the mudras in your life and your yoga practice
Connect with ancient wisdom traditions
Delve into symbology and sacred geometry
Evoke the energy of the Gods and Goddesses
Nubia has devoted herself to teaching different aspects of yoga for almost 30 years. Perceiving yoga as a healing art, Nubia's refinement and unique style overflows with sacred meaning and heartfelt inspiration.
Book reviews
"The hands are extensions of the heart, reflecting what is in your heart. Mudras tell stories with the hands. Nubia's hands express the celestial stories and songs of her innermost heart—the eternal abode of Divine Love where God and the soul dance in ecstatic delight. Nubia is an other-worldly apsara who has taken birth amongst us mortals—to show us the keys to the heart of heaven and how to open the secret door. This is an incredibly important book"
—Sharon Gannon, founder of Jivamukti Yoga.
"A beautiful book, full of gestures of embodied understanding and refreshing postures that can enhance your yoga and deepen your practice as an act of devotion and love."
—Jack Kornfield Author, Buddhist practitioner and one of the key teachers to introduce Buddhist mindfulness practice to the West.
"Nubia Teixeira's offerings bring the inner art of mudras from Odissi Temple Dance into a pioneering, fully embodied yogic expression. Steeped in her lifelong experience of the Bhakti and Hatha Yoga traditions, Nubia has created a truly classic mudra book to treasure and draw from for the rest of your life. Blessings to Nubia and to all who are awakened by this extraordinary gift."
—Shiva Rea, yogini, author Tending the Heart Fire
"Just as we use our voices to chant the sacred name, so we can use our hands to deepen our meditation in the form of these sacred mudras.
Nubia is our guide on a beautiful journey into this ancient wisdom. She shares with grace, wisdom, knowledge and passion - such a blessing!"
—Deva Premal - Musician and Meditative Mantra Muse.
You are also invited to stay on for Nubia's husband, Jai's workshop Everyday Bhakti: Walking in Devotion taking place that afternoon from 2pm to 5.30pm.
As part of the Kirtan Love Experience Tour, we are excited to welcome back Jai Uttal after almost 6 years for his unique Ecstatic Chanting concert taking place on Thursday 11th July at Cecil Sharp House at 7.30pm. You can book your tickets via Eventbrite here.