Yoga + Mindfulness for Endometriosis with Divya Kohli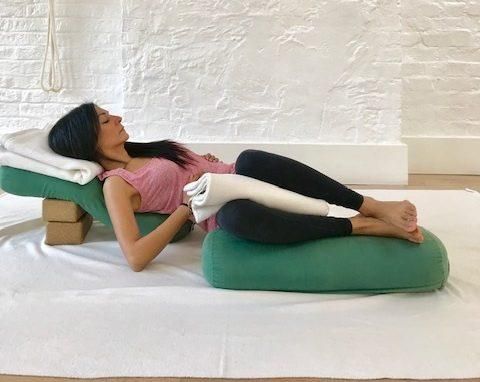 Schedule & Booking
Date: 05/04/2020
Teacher: Divya Kohli
Price: £40.00
14.00-17.00 at Islington

Book by 29 March and receive a £5 earlybird discount
View class schedule
One in 8 women in the UK experience endometriosis, and at least one in 10 women across the world.
Women with endometriosis can suffer for years in pain and a host of other unpleasant symptoms such as extreme fatigue, headache, migraine, back pain, pmt, shooting sensations, muscular fatigue, nausea, insomnia and digestive issues. As a result of the chronic nature of the condition, it impacts a woman's broader health with feelings of anxiety, depression and isolation and impacting relationship, work and careers. It can also affect fertility.
If you have endometriosis, do you wish you had something of your own, outside of medicine, surgery and supplements, to help you manage this painful and often debilitating condition?
This workshop is based on a pioneering programme that brings together yoga-inspired practices, meditation and mindfulness techniques to help women manage endometriosis. The practices can also help with adenomyosis and those who experience chronic menstrual pain.
You will learn and experience yoga sequences, breathing techniques and meditation practices to help you:
-Manage the symptoms of endometriosis, including pain, heavy bleeding, cramps, stiffness, chronic fatigue, headaches and nausea
-Support your own healing process; physically, mentally and emotionally
-Understand the mind-body connection that influences symptoms and possible triggers
-Learn and embody self compassion as a vital tool on your path to healing
This afternoon will have a supportive atmosphere, where you can connect with others and where you can rest and engage as much or as little as you feel up to on the day.
This workshop brings together 21 years of practice and experience from Divya Kohli, a teacher who has had endometriosis and continues to benefit from the practices. Divya is dedicated to using and applying the philosophy and practices of yoga and mindfulness for genuine healing, and to helping others find positive ways out of challenges to their wellbeing. You can find her at: www.yogawithdivya.co.uk.
This workshop is open to all regardless of your yoga experience, beginners are welcome.