Creativity and Freedom with Tanja Mickwitz
Since her first yoga class in 2000 Tanja has explored many different styles of yoga. First the discipline and rigour of Ashtanga, then the creativity and freedom of Vinyasa Flow, the energetics and philosophy of ParaYoga and, more recently, the grace and alignment of Anusara. All these influences are reflected in her teaching.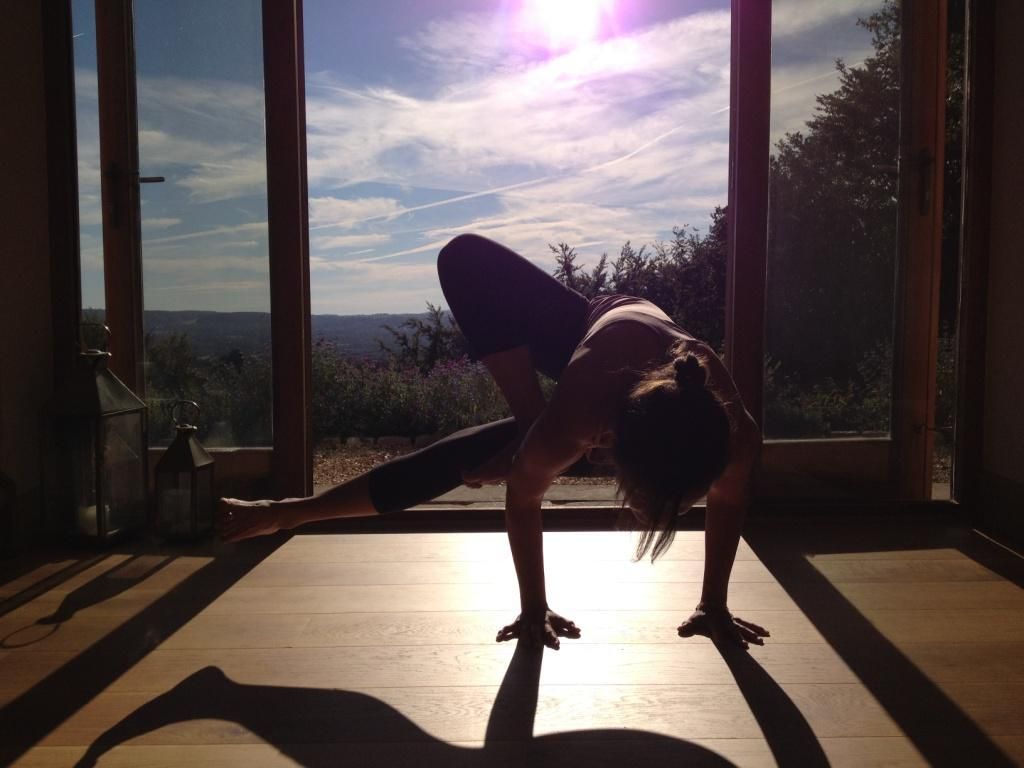 What, when and where was your first experience of yoga?

My first ever yoga class was at Globe House Yoga in Bermondsey, it was just me and one other student in an Iyengar class — I will never forget the shaky legs and discovering muscles I never knew I had, but most memorable was Savasana, the deep sense of finding something I didn't even realise I'd been looking for, a feeling of coming home.
What made you decide to move from student to teacher?

The transition was more than anything about wanting to deepen my study, wanting to deepen my relationship with my practice, this was my main motivation for undertaking the Teacher Training.
What teaching tip has had the biggest influence on the way you practice? And the way you teach?

When I started to learn about the energetics of the poses it revolutionised my practice — so naturally this is fundamental to my teaching.
What does your own self-practice involve?

My meditation practice is my anchor and my priority. This is how I start my day (though sometimes my kids have other ideas!). My asana practice is tailored to my energetic and physical needs, length and time varying depending on my schedule and commitments.
If you only had 10 minutes to practice, what would you do?

This really depends on what I felt I needed the most (and this is assuming that I had already had time to meditate!). With limited time you need to get efficient and practice in a way that will support your needs the best. If I was feeling lethargic or stagnant then some sun salutations and vinyasa with standing poses. If I needed calming then some seated poses, forward bends. And if I was feeling exhausted the ten minutes would best be used in a restorative pose.
Who/what is the biggest inspiration on your yoga journey at the moment?

There are so many extraordinary and insightful teachers which I have had the privilege to study with, including Judith Lasater, Sally Kempton and Rod Stryker. However I also often find myself inspired by situations that arise, conversations had, things I read — for me the most inspirational is life itself and how we grow and evolve on this journey.
What role does yoga play in the way you live?

Yoga is self-study, this isn't limited to what we do on the mat, it encompasses all of life. The formal practice on the mat prepares me to stay more awake and engaged with my whole life and in all my relationships. It gives me perspective and also the power of choice — yoga provides me with the energetic and reflective tools to instigate change where needed. Yoga for me is about aligning myself better with the truth of my soul and my purpose. This is a continuous process, a journey which my practice helps to support and nourish.
What do you hope your students to experience when they practice with you?

Most of all I hope I can provide a space where students can experience a deeper relationship with themselves, and catch a glimpse of "smarana" — remembrance of who they truly are, the part which lies beyond identification with outer circumstance, identity or physical body.
Which yoga text could you not live without?

Classical texts? The Bhagavad Gita is one I keep coming back to.
Describe the meaning of yoga in 10 words or less.

Awakening to spirit, aligning with your soul, living in connection.
Tanja teachers at Islington and Notting Hill at the following times:
Islington
Mondays

6.00-7.15pm ~ Dynamic Flow Level 2
7.30-9.00pm ~ Flow & Restore
Tuesdays
12.45-2.00pm ~ Slow Flow Level 1-2
Notting Hill
Wednesdays
11.15am-12.30pm ~ Slow Flow Level 2
9.45-11.00am ~ Dynamic Flow Level 2
---