Yoga Classes
We offer a broad range of classes with some of the best teachers in London. New to yoga or practicing for years, you'll feel at home. We offer classes both in-studio and online.
Yoga brings greater balance, flexibility and ease to body and mind regardless of how old you are, how flexible you are and what you bring to the mat. It's a powerful practice that can help you better navigate whatever life throws at you.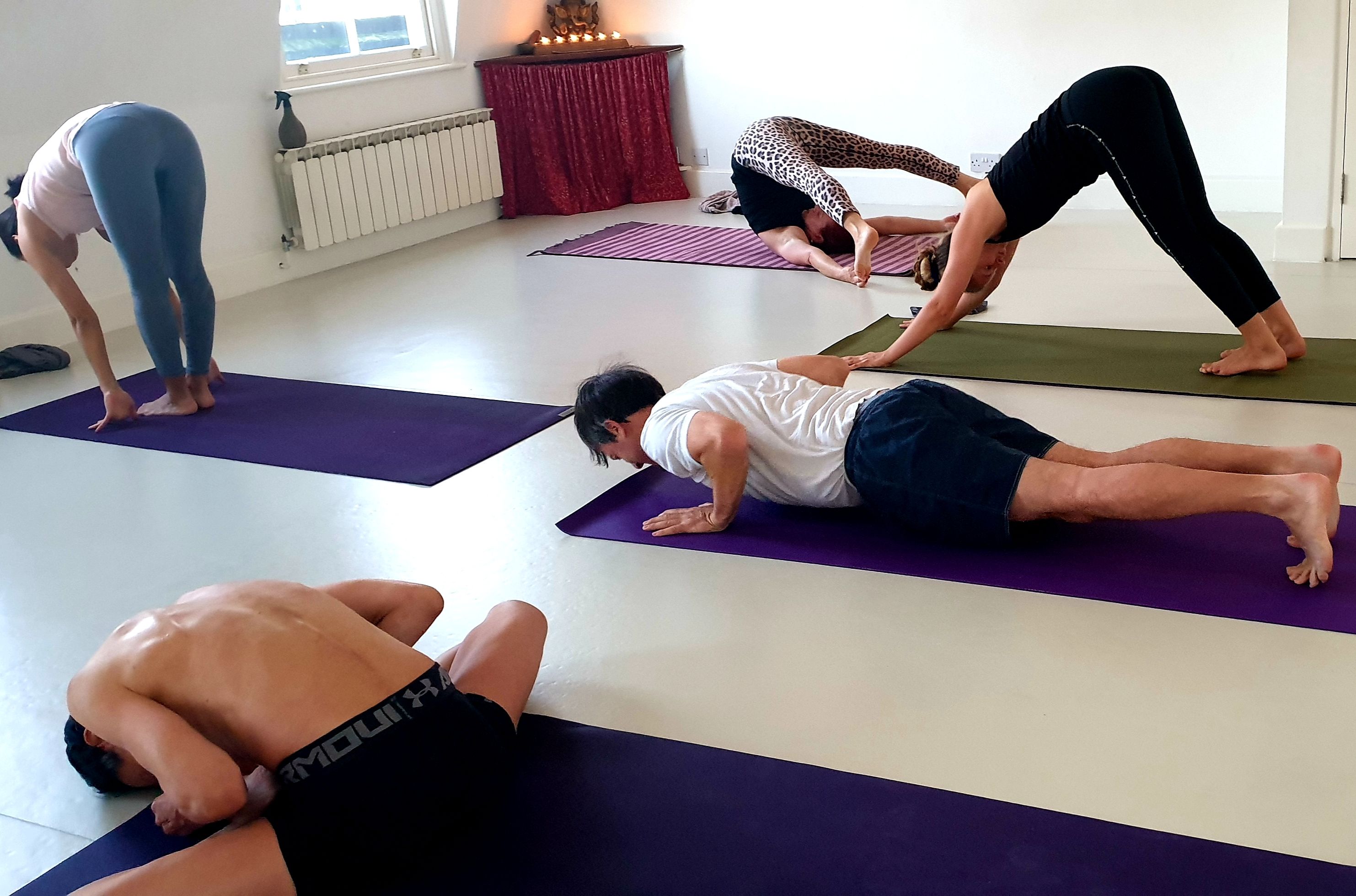 Schedule & Booking
We offer Yoga and Pilates classes 7 days a week across many different styles. Take a look at what's on offer and book a class.
View class schedule
Class Styles
There are many different styles of yoga on offer at The Life Centre, and at first glance it may feel daunting to know which class is right for you. Yoga classes can be dynamic, alignment focused, strengthening, still and restorative, or anything in between. This guide aims to demystify the main styles on offer at The Life Centre. We recommend you try a selection of different classes for yourself, so you can discover what works best for you.
Dynamic Classes
Dynamic, flowing classes with a focus on linking the breath to the movement.
Ashtanga Yoga
Vinyasa Flow
Jivamukti Yoga
Kundalini Yoga
Fit Flow
Yoga & Pilates Flow
Alignment Classes
Slower with greater attention to detail
Yoga for All
Scaravelli Inspired Yoga
Restorative Classes
Classes to relax the mind and body
Gentle Yoga
Restorative Yoga
Yin Yoga
Yoga Nidra
Specialist Classes
Classes for every stage of life
Pregnancy Yoga
Mums & Babies Yoga
Baby Massage
Pregnancy Pilates
Pilates
Mat-work classes aimed at conditioning and strengthening the body
Meditation & Pranayama
Find focus and stillness with meditation and pranayama.
Meditation All Levels
Breathwork & Pranayama Courses
Class Levels
Whether you are new to yoga or more experienced, we have classes on offer to suit you. Our classes are categorised so that you can find the class that's appropriate for your level of experience. Here's what you can expect at each level:
1

Level 1


Suitable for beginners and those newer to yoga, classes at this level will cover the basics at a pace that it easy to follow, so that you can learn basic breath techniques and key postures.

2

Level 2


Suitable for more experienced students. Expect more advanced postures and breathing techniques, requiring and developing greater strength and flexibility. Students are expected to have a good basic knowledge of body alignment, breathing techniques and key yoga postures.

All

All levels


Open to all levels of experience with options and modifications given where necessary.
"For me the Life Centre is my second home in London. The teachers as well as all the reception staff are amazing!"
FAQ
Whether you are a complete beginner to yoga or have been practicing for a lifetime already, we have classes to suit your practice.
What is Yoga?


Yoga is a holistic practice originating in India over 2000 years ago, and despite its ancient roots, yoga could not be more relevant today. A powerful and transformative practice that allows us to feel more at home and at ease in our bodies and encourages a greater sense of mental clarity and wellbeing.

What are the benefits of practicing yoga?


While quietening the mind has historically been the main aim of the practice, for many this isn't something that comes until they've been practising for a long time. The physical benefits include increased flexibility, strength and stamina, and a sense of comfort and feeling at home in the body. As you start to experience greater ease in your physical body, you may find it easier to sit comfortably for longer, thus enabling you to delve more deeply into meditation so that you can begin to experience stillness of the mind.

What does a yoga class at The Life Centre usually involve?


In our yoga classes, you can expect to move through yoga poses with attention to the breath. There are other elements you may experience in a class such as meditation and guided relaxation – and all classes will end with at least five minutes of total relaxation, so that you can integrate all that's gone before and transition back into daily life with ease.

Who is yoga suitable for?


Yoga is non-competitive and open to everyone: young or old, flexible or stiff, athletic or deskbound, male or female. Although there are spiritual elements to yoga, yoga is not a religion and does not require you to subscribe to any particular set of beliefs. All yoga requires you to believe in is yourself.

How do I know which style and level of class to choose?


Over the centuries, many different styles of yoga practice have developed and we offer classes in most of the major contemporary posture based styles, for students of all levels of experience.

What should i bring?


Stuff

I am pregnant. Can I practise yoga?


We advise you not to practise yoga in your first trimester whilst your body is adapting to change. From your second trimester onwards, we encourage you, with the approval of your medical practitioner, to attend our Pregnancy yoga classes. Intermediate and beyond students can attend general classes from the second trimester at the discretion of the teacher and with the prior approval of your medical practitioner.

Can I book a class in advance?


Yes, we offer pre-booking for all our scheduled classes. You can book through our website or mobile app. 70% of the places can be booked online and with 30% of places available for drop-in only. We recommend booking ahead if possible, particularly for evening classes when it is generally busier, to cut down on queues in reception. If you are unable to pre-book your class online there will still be drop in spaces available. As with all classes please arrive early to secure your place and get ready before class.

How much time should I allow before class?


Please arrive at least 10 minutes before your class is due to start to allow yourself time to check in, change and settle for class. If you have pre-booked a class and we have other students waiting, then we may give a away your spot if you don't check in 10 minutes before class.

Please note that, if you arrive 5 minutes or more after the class has started, we will not be able to let you in.


What should I wear?


Dress in comfortable clothing in which you are able to stretch and move freely. Classes are barefoot, and shoes are not allowed in the studios.

Do you provide equipment?


Yes! Mats, blocks, bricks, straps, blankets, bolsters and chairs are provided free of charge in all studios. Many students prefer to practise on their own mat — mats are available to purchase at reception or you're welcome to bring yours with you.

Should I eat before class?


Like all exercise, Yoga and Pilates are best practised on an empty stomach. We recommend that you do not eat for at least 2 hours prior to class, though juice or fruit are OK if you need a quick energy boost beforehand. We suggest that you drink plenty of water prior to class, but avoid drinking during class.


What if I have an injury or medical condition?


Please inform the teacher of any injuries or medical conditions (including pregnancy, suspected pregnancy, or recent childbirth) before the class starts. This is really important as it helps the teacher know how to assist you, give you modifications, and keep you safe. We, and our teachers, reserve the right to ask you not to participate in a class if we feel that it would be inappropriate because of an injury or medical condition. If you are uncertain about whether or not yoga is suitable for you, please contact us.

I'm under 18 years old, can I come to class?


Our adult classes are only suitable for over 16 year olds. If you are between 16–18 years of age and would like to come to any classes/workshops, you need to be accompanied by someone over 18 or attend our special Yoga for Teens classes.

Do you offer private Yoga and Pilates tuition?


Because of space constraints, we are unable to offer one-to-one tuition at The Life Centre. However, reception can put you in touch directly with some of our regular teachers if you would like to discuss private tuition.

Are mobile phones allowed in the centre?


If you must bring your mobile phone into the studio please make sure it's switched off and kept away from your mat to allow yourself the time to switch off from the outside world for a while and to avoid disturbing others in the class.

Where can I leave my bags and valuables?


Lockers are provided in the changing rooms at both centres. There are small shelving cabinets in the yoga studios for the storage of valuables. We strongly recommend taking your valuables into the studio. The Life Centre is not responsible for any loss or damage to items during your class, whether or not in lockers.
View full class FAQ