Meet Our Teachers: Hongyi Huang
In this Meet the Teachers piece, we dive deeper into who Hongyi really is!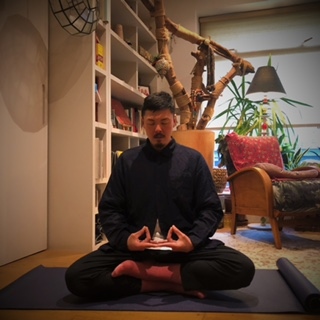 Can you remember your first yoga class? What was the experience like?
I was probably 20 when I attended my first yoga class. I knew very little about it but had read somewhere that it was calming, and when I entered the studio, I realised I was the youngest person by far. The rest of the class were probably in the 40s and above. Rather than being conscious of the fact, I simply focused on the instructions of the teacher and turns out, I had a natural inclination and ease for the practice. Most importantly, I felt a distinct clarity of mind and a sense of peace at the end of the class, and had maintain a regular practice since.
What do you find most rewarding about being a yoga teacher/yoga therapist?
Generally, most students are grateful and appreciate for the lesson/practice that you offer, so you're mostly at the receiving end of positivity, gratitude etc. After decades of practice, I've made many mistakes and also had several epiphanies for it, and I'm grateful to be able to share some of the things I've learnt from my experiences that can support a student in their own understanding of the practice.
What do you find the most challenging?
An assurance and confidence in oneself; there's so many external voices and influences of what you should be, how you should teach, how you compare against other teachers - naturally, you question if you're good enough and if what you're offering is serving the class.
How do you build relationships with your students?
I'm conscious that everyone is in the class for different reasons, perhaps some are looking an hour of peace, perhaps an hour of workout - some teachers require a specific attitude from their students towards the discipline and I can respect that, I personally like to give students their space, instead I try to project an openness and warmth to let them know I'm available should they have anything they wish to ask.
What advice do you have for somebody who is new to yoga?
When you're new to the practice, you're very conscious of doing the 'right' thing, so your eyes work extra hard, looking around the room or at other students, to follow what they're doing. But yoga is a mind-body practice and the aim is to internalise your experience… resist looking around, and listen to the cues instead; part of the training of yoga is to listen and react. You start with listening to the instructions of the teacher and gradually, you start of listen to the feedback from the body.
How has yoga changed your life?
I realised that these decades of practice has made me very 'in touch' with my mind and body, and it has kept me supple and mobile. I see friends/people of my age or even younger, who struggle with certain motions.
I have a good grasp of my breathing from years of breath-work practice, and when I contracted COVID twice these past years, I absolutely attributed my recovery to the relationship I have with my breath!
Do you have a favourite yogi or a guru that inspires you?
I have many whom I respect them for their contribution and dedication in researching, promoting and sharing their knowledge in the subject. Teachers that include Gary Kraftsow, the founder of American Viniyoga Institute, Leslie Kaminoff, co-author of Yoga Anatomy and founder of the Breathing Project, Uma Dinsmore-Tuli, co-founder of Yoga Nidra Network to name a few.
Bio:
An introduction to Iyengar yoga in his early 20s would mark the start of a 20-year yoga journey for Hongyi, but it was only after moving to London did he discover and began to explore the myriad of styles that the city offered. He has been practising the Vinyasa style since and appreciates the dynamism and physicality as well as calming qualities.
A desire to further his practice led him to train as a yoga teacher. Through emphasis on linking movement and breath, Hongyi's classes aim to synchronise qualities of strength with qualities of stretch, to bring an overall toning and sense of awakening to the body and mind.
A certified Yoga Therapist, Hongyi completed a Diploma in Yoga Therapy with Yogacampus, the education branch of Life Centre, in Summer 2021. A 600+hr course spread over 2 years, focusing on the nurturing and restorative elements of yoga, and through a combination of theoretical studies with real life practice to cultivate a therapeutic application of yoga that can be shared with a diverse and wider audience.
Contact details
Website : https://www.hongyitheyogi.com/
Instagram : https://www.instagram.com/hongyihuang/?hl=en
Practice Core Flow Yoga with Hyongi online every Monday from 6:00 - 6:55pm
A vinyasa-style class with a focus on core awareness and activation, we move through asana sequences at a considered pace, to work on alignment, stability and grounding, whilst also incorporating core strengthening movements and exercises as part of the practice.