Sacred Sound with Anne Malone
Anne Malone is an internationally recognised singer/songwriter and facilitator, her passion for music has taken her on a journey of sound. In this interview Anne tells us what is at the heart of her work: "Music is the breath of Love, to share the beauty of breathing and bathing in Sacred Sound is my passion and joy".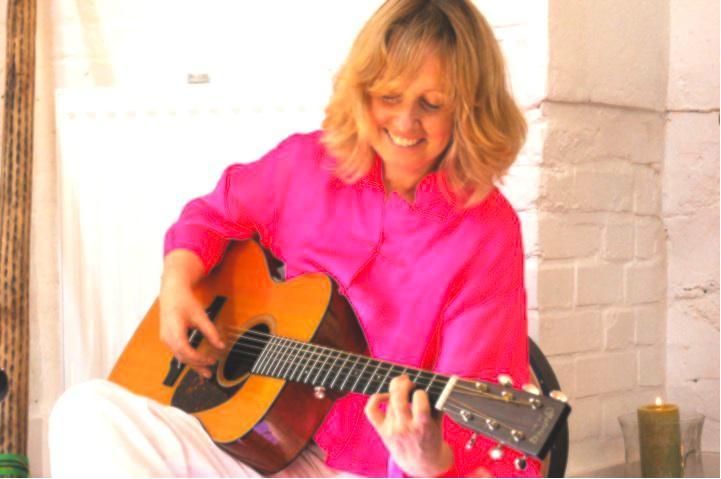 Tell us something we do not know about Maharaji?
Maharaji's commitment is to peace. People focus on the symptoms, but not the disease. Maharaji's efforts are focused on eliminating the disease — which is, fundamentally, people not being in touch with themselves, not knowing who they are. If we don't take care of the disease, the symptoms will never go away. And we all know what the symptoms look like: greed, war, selfishness, violence, and an increasing loss of trust. Peace is a real thing. Peace resides in the heart of every human being.

What is the most important thing he taught you?
Maharaji showed me the preciousness of each breath, this miracle of life – through meditation.
When did you start expressing yourself through music, and how has that evolved since then?
The first song I wrote was when I was 9 years old … "Seagull I don't want your freedom in a lie" .. but my first memory of being moved my music was when I was much younger, around 4 years old, I heard a piece of music and found myself crying for no reason other than the music moved something inside my little heart!!
So, all my life I have been singing, playing music and writing songs. I was in the school choir and always learning new songs and putting harmonies to pop songs with my friends.
When I lived in Ireland I sang and played traditional music alongside pop music, but started recording my music when I moved to London, having travelled to USA, Latin America, Europe playing music and immersing myself in rich musical traditions. In London I discovered my Teacher Maharaji, and from then on, my songs reflected my inward journey. My passion for heart and soul living lead me to train with Chris James (Sacred Sound) as a Sound Healer, with Annie Spencer (HartLodge) as Shamanic Ceremonial Guide and Brandon Bays (The Journey) as a Journey Therapist, and immersed myself in Shiva Rea's Vinyasa Yoga TT for the past 7 years … with music and songwriting remaining my vehicle for sharing, a wonderfully organic and peaceful musical creation has emerged … "Oasis of Sound" …
Many amazing instruments came my way – the Hang, Sansula, Tibetan Bowl, Rainstick, Gong with which I weave vocal toning, Mantra and Shamanic Journeying to support and explore the magical world of Sacred Sound.
Over the past 12 years I have recorded many cds of Hang music, Vocal Toning, Sacred Chants and Mantras, Chakra Tuning with Om, Sansula and am just about to release a new album of original Sacred Songs.
As a natural progression, I developed various workshops exploring the world of Sacred Sound, Shamanic Ceremony and Healing Journey, where I share my passion and pass on the skills I've learnt and developed and discovered.
I now travel internationally hosting workshops and concerts and training sessions. For the past 9 years, I have been contributing to the Brahma Kumari's work with Carers and Community initiatives, and have created a Sacred Sound space within Mind Body Spirit Festivals – "The Mantra Lounge".
What has been your most exciting music project so far?
Witnessing "Oasis of Sound" evolve and setting up "The Mantra Lounge" at Mind Body Spirit … and my latest Album of my songs.
What can students expect to get out of a voice workshop?
A wonderful warm feeling in the Heart! A deeper understanding of music and sound … finding their unique / individual voice and singing from the heart… listening and hearing with great clarity … experiencing the resonance of pure tones on a molecular level … and confidence to speak and sing from a place of strength and stillness … find their ability to hold their Sacred Space … and ENJOY in their unique and wonderful way – their PerSona (personal sound) … we are all born to sing!!
Tell us about your upcoming albums or collaborations.
My latest album "Home" will be released in June 2015 (www.bluemuse.co.uk for further info) … Mantra Lounge with MBS, Sound Installation with Bompass and Parr, Hang and Table album with Tabla Tom inspired by Shiva Rea's Yoga sessions.
Do you practice yoga? Who is your favourite teacher?
Yes, I have practiced yoga for past 20 years and have been an Astanga, Vinyasa Flow, Hatha and Bikram Nut!! … more recently I have been diving into Pilates, which is strengthening my core … without having to anticipate plank (with terror!!). I really admire and am in awe of Shiva Rea, because she combines heart with movement and the alchemy of our ancestors, and I can feel her passion … even though I spend a lot of the time in child's pose!!
Anne offers regular Sound Baths at both Islington and Notting Hill. Oasis of Sound is a monthly Friday evening at event at Islington and you can find her at Notting Hill regularly too.
---