Yoga and Somatics Wellness Retreat with Laurent Roure in Santillan Yoga and Wellness Centre, Andalusia, Spain - April 21st -28th 2024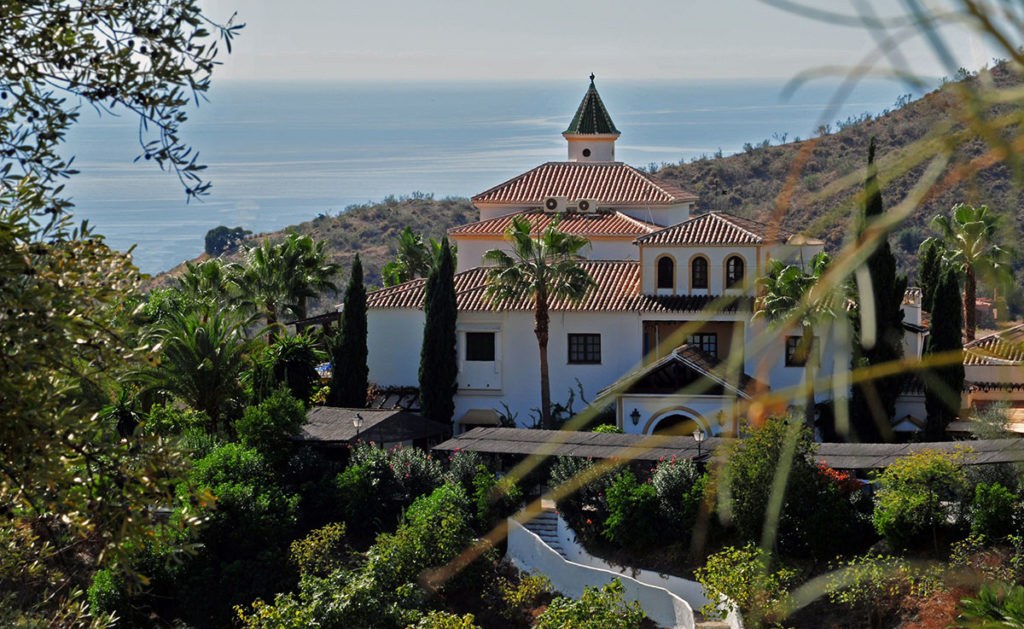 This exclusive yoga retreat in the southern foothills of Spain will leave you nurtured and revived. Set in an authentic Andalusian farmhouse with gardens overlooking the Mediterranean, this location is the perfect space to find time to deepen your practice in yoga, bodywork, breathwork and meditation.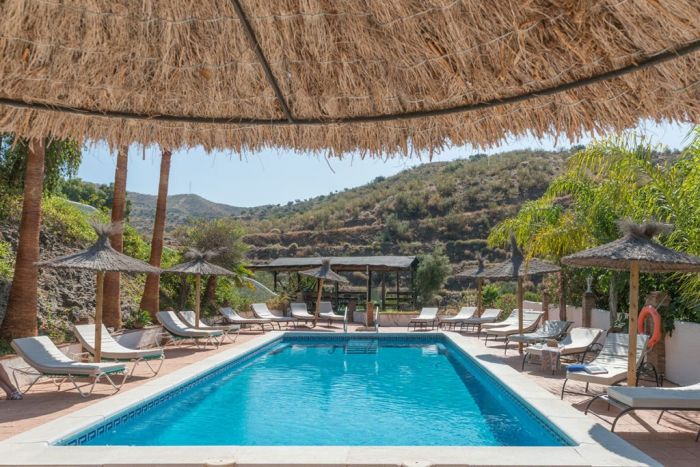 Over seven days, Laurent will offer twenty-five hours of rejuvenating and relaxing practices spread across themed yoga and somatics workshops, in one of Europe's finest yoga studios.
The specially curated program is designed to maximise your wellbeing and restore vitality to your body and mind.
This retreat is suited to practitioners of all ability levels. All you need is a desire to lounge in the sun, improve your wellbeing and change your life for the better.
Yoga
In the morning:
Every morning, Laurent will offer a two-hour themed workshop based on a fusion of traditional yoga methods with contemporary bodywork, breathwork and meditation. It's the perfect opportunity to improve your practice, achieve your goals and learn how best to work around any ailments or health conditions.
The workshops will alternate between slower therapeutic approaches and a more dynamic practice to support strength, mobility, and flexibility. Every workshop will be accessible for all thanks to Laurent's skills in providing suitable variations and accommodations.
In the evening:
The evenings are dedicated to more meditative and inwardly practices and explorations. After the day's activities, Laurent will teach a 90-minute calming and restorative yoga session, including somatic exercises and movements to release tension and connect you with a deep sense of relaxation.
As a complement to the above, there will also be time for breathwork and meditation techniques such as yoga Nidra. Yoga Nidra is a traditional technique that provides total physical, mental and emotional peace. It is perfect for those suffering from fatigue, anxiety, or depression, or anyone who needs some blissful chill-out time.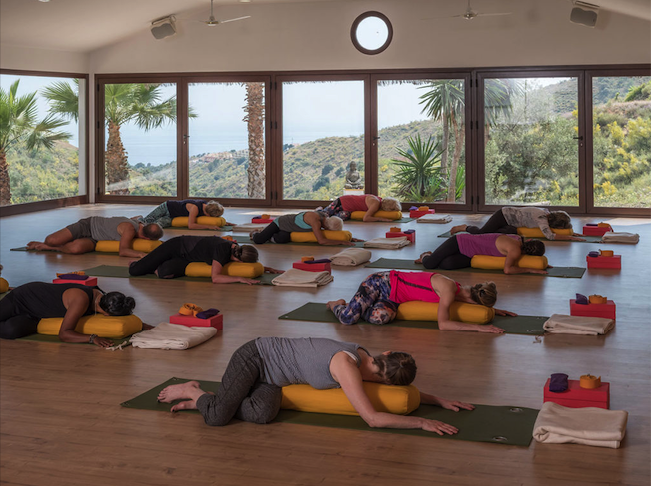 The Venue
The retreat will take place at 'Centro Santillan Yoga and Wellness Centre', a family-owned farmhouse fitted with the perks of a luxury hotel such as a salt-water swimming pool, a tennis court, massage therapists, a boutique, hiking paths, and beautiful pine gardens for you to enjoy.
This remarkable venue was mentioned in The Times as "one of Europe's best yoga and wellness centres."
This authentic Andalusian farmhouse of 50,000 square metres, with gardens overlooking the sea, is set in a secluded location. Yet it is conveniently only 20 minutes from Malaga airport.
Retreaters can immerse themselves in the silence of nature in its lovely gardens and surrounding hills. You can relax in the extensive gardens or around the salt-water pool, and at night can enjoy stargazing under the night sky – we can provide a bonfire outside for those cooler nights.
One of Santillan's jewels is the spacious state-of-the-art 170 m2 yoga shala with beautiful sea views. Due to its vast south-facing windows, you can practise yoga whilst enjoying the sunsets. The studio is equipped with everything a yogi might need. A thermally insulated wooden floor, an Iyengar rope wall, soft mats, foam blocks, wooden bricks, belts, bolsters, blankets, sandbags, chairs and wooden slant boards.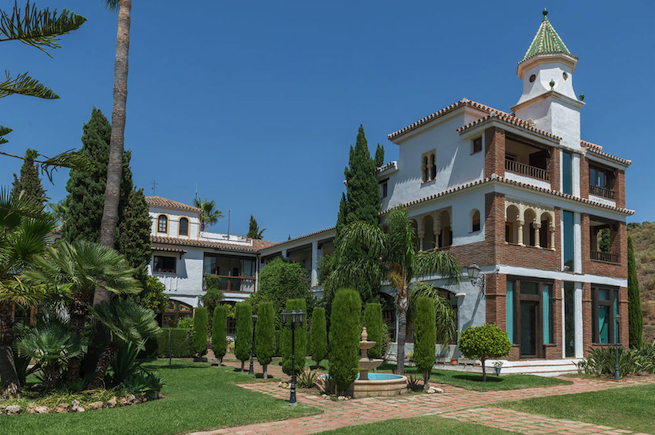 The Food
During your stay at Centro Santillan, you will be offered a selection of Mediterranean, vegetarian and vegan meals based on organic produce grown under the Spanish sun. Products are sourced from the farmhouses' gardens and chicken coops and from local farmers. The kitchen also offers specially tailored dishes for attendees with dietary requests and allergies.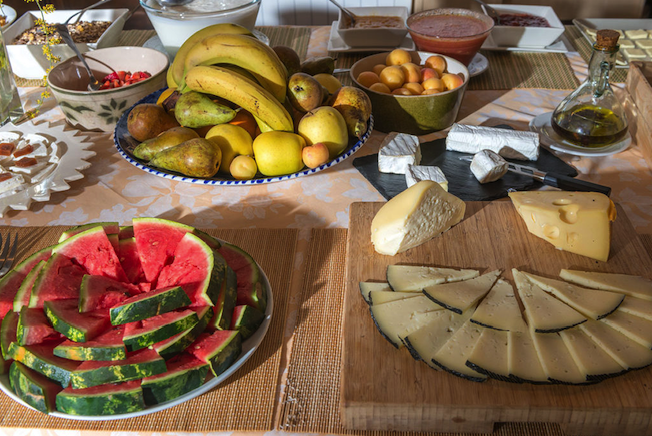 Accommodation & Cost
Pricing
Deluxe room:
Double or twin beds.
Ensuite and own balcony with garden view or veranda with access to the garden.
Based on 2 people sharing: £1,195.00/ per person (£1,295.00 after 31st October 2023).
Single occupancy: £1,495 / per person (£1,595.00 after 31st October 2023).

Superior room:
Double or twin beds.
More spacious, Ensuite and own balcony with a view to the hills and the sea beyond.
Based on 2 people sharing:
£1,295.00/ per person (£1,395.00 after 31st October 2022).
Single occupancy: £1,595.00 / per person (£1,695.00 after 31st October 2022).
Junior Suite:
This room offers a queen-size bed, separate sitting room, desk area, bathroom with shower and south-facing panoramic window with table and chairs looking down the valley to the sea.
Based on 2 people sharing: £1,395.00/ per person (£1,495.00 after 31st October 2023).
Single occupancy: £1,795.00 / per person (£1,895.00 after 31st October 2023).
Please note travel is not included.