Crystal Alchemy Bowl Sound Bath with Guided Meditation & Crystal Harp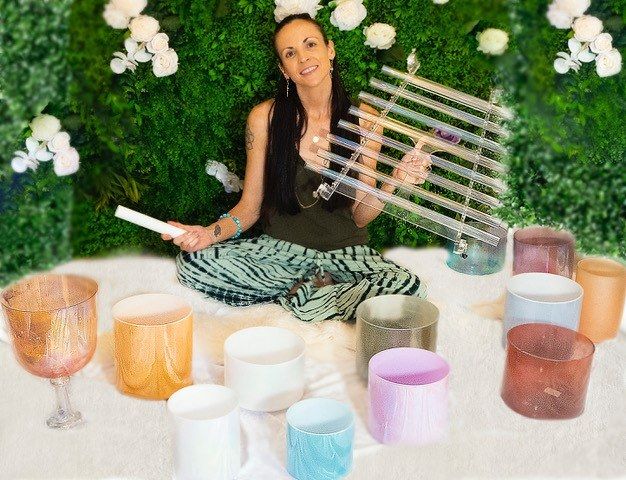 Schedule & Booking
Date: 12/10/2023
Teacher: Ali King
Price: £28.00
Thursday 12th October
7.45pm - 9pm
Book Workshop
Join Ali King for an evening of soothing guided voice meditation and transformational crystal vibrational sound – a journey of deep relaxation.
Immerse yourself in the healing power of crystal sounds and guided voice meditation. Step into a world of deep relaxation, transformational teachings, and the healings sounds of the crystal harp and alchemy crystal singing bowls.
You will be invited to lie down with comfortable blankets and cushioning. The evening will begin with guided voice meditation, so all you need to do is arrive and feel safe to rest and let go of anything you do not need. Ali's voice will guide you into deep comfort and inner peace, focusing on relaxing your muscles and soothing your tensions away. There will be elements of Daoist mantra, Angelic Healing and Colour Chakra Therapy weaved into this meditation.
Once Ali has guided you to let go of the physical body, your soul energy will journey through astral plains to the stars and the galaxies. You will be laid upon a crystal healing bed, where you can listen to the most wonderful angelic sounds of magical chimes, crystal bowls and the majestic crystal harp.
This is a journey of deepest healing, transformation, and peace.
Ali King is an accredited Crystal Tones® Alchemy Crystal Bowl Master Sound Healer, and established Crystal Planets an online crystal temple for her Crystal Harp Designs and Crystal Art Sculptures this has become an important platform where creative crystal designs, and the healing power of crystal vibrations connect.